Both opponents and supporters of the controversial Stuttgart 21 railway project gathered on Saturday to make their message heard following a first round of mediation talks over the controversial railway project.
Police said some 16,000 opponents were present although opposition organizers put the number at 50,000. Authorities counted around 7,000 supporters of the railway plan, although there were no major incidents at the demonstrations.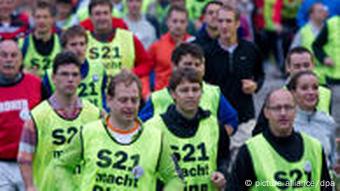 Recently, people in favor of the project have been taking to the streets
Those against the Stuttgart 21 rail project called for a complete stop to construction, demanding the resignation of Baden-Wuerttemberg state premier Stefan Mappus and denouncing authorities as "liars." They claimed the government has not been transparent on the issue.
At the same time, supporters of the project gathered in the palace gardens near to the station to chant "keep on building."
Rail chief vows to press on
Supporters welcomed remarks by Ruediger Grube - the chairman of Germany's national rail operator Deutsche Bahn - in favor of the demolition of Stuttgart's old train station.
The station is to be replaced with a new underground facility - with construction costs estimated to reach 7 billion euros ($9.8 billion dollars.)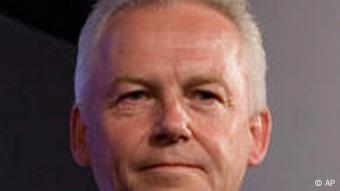 Deutsche Bahn chief Grube's comments were welcomed, at least by some
"Deutsche Bahn cannot, may not and will not stop," Grube told the supporters, adding that the project was good for the city and that 1.4 billion euros in contract payments would have to be paid if the contract was abandoned.
The project has been the subject of protracted and sometimes violent protests, culminating with police water cannons being used against protesters on September 29. The police actions later drew widespread criticism and a mediation process was launched.
Environmental and financial costs
Opponents claim the project to make Stuttgart part of a high-speed rail route across Europe is too expensive and that its construction will damage the environment.
Supporters, who have taken to the streets in increasing numbers in recent weeks, say that the connection will eventually bring more money to Stuttgart. They say that although some 290 palace garden trees will need to be chopped down in the building process, this can be offset with the planting of even more trees when construction is completed.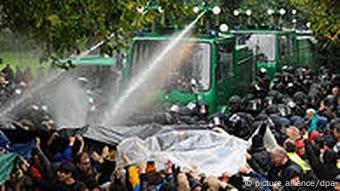 Water cannons were used against protesters, prompting criticism of police
Opposing parties began a first round of negotiations on Friday. Mediation talks are to continue every Friday until December 3.
Chief mediator Heiner Geissler said that he believed it would be possible to find a solution to the problem. Premier Mappus has said no further demolition work or tree-clearing is to take place until the next state election, scheduled for March 2011.
Author: Richard Connor (dpa, AFP, Reuters)
Editor: Kyle James