Twenty years ago the chemical industry had a terrible reputation with politicians from the Green party in Germany. That has changed. As recently as 2009, the Green party's parliamentary group stressed that the chemical industry was an important economic asset to Germany.
Still, Greens expect the chemical industry to start producing large amounts of compostable plastics and move climate protection forward. "Without the chemical industry we will not be able to reach the EU target of reducing CO2 emissions by 80 percent by 2050," said Uwe Lahl, a consultant on environmental technology who used to head a department of the federal environment ministry.
Shorter life span, cleaner inputs
Lahl is the author of a study, commissioned by the Green-affiliated Heinrich-Böll-Foundation, on how the chemical industry can change to protect the environment and stop climate change. A key demand is making plastics that degrade biologically.
Lahl set out to address a simple question. Why must plastics be designed to stay stuck in the environment for hundreds of years?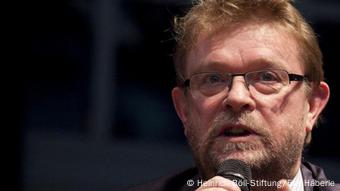 Lahl asks why packaging cannot be made to decompose more quickly
Another of the study's demands: plastic has to be better recyclable in future. "It has to be possible to decompose used plastics into their building materials and then to turn them into new plastics without loss of quality," said Lahl.
Chemicals made of renewable materials
But Lahl's main goal is to significantly reduce the chemical industry's consumption of energy and raw materials. He wants chemical companies to make synthesis more efficient by using catalysts. He wants them to make use of solar energy for chemical processes. And he also wants them to make building block chemicals from corn stalk or scrap wood, or to make use of bacteria or yeasts in bio-refineries.
"By 2050, more than 80 percent of all chemicals could be made from renewable materials", Lahl said.
Currently, only ten percent of the raw materials used by the chemical industry are made from plants or trees. They are used to produce fine chemicals for detergents.
Chemical industry is not convinced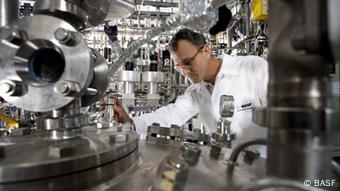 Fungi and other renewable materials can help make pharmaceuticals
The German chemical industry's association VCI considers Lahl's ideas utopian. Building block chemicals like ethylene could indeed be made from sugar or cellulosis in laboratories, says Utz Tillmann, the association's managing director, but it's not economical.
There is simply not enough available biomass to replace crude oil as a raw material, he says, and gives an example: A modern chemical plant makes 800.000 metric tons ethylene from crude oil. In order to produce the same quantity from sugar cane, it would require a plantation of 220,000 hectares.
Chemicals before energy?
Lahl disagrees. He has come up with different numbers and argues that 200 million hectares worldwide would suffice to supply chemical companies across the globe with sufficient raw materials.
He is aware that it will need time for the chemical industry to re-organize its supply of raw materials. But he also says politics should do its part to make biomass available to the chemical industry first, before making use of it to generate energy.
Author: Ralph Ahrens/ ar
Editor: Gero Rueter