Transport was disrupted and trains stopped amid power outages during the morning commute as the earthquake struck at 8.a.m. local time (23.00 Sunday, UTC) at a depth of about 13 kilometers (8.1 miles).
A number of people were trapped in elevators, windows broke and small fires were set off in buildings. Centered inland from the port city, the earthquake did not cause a tsunami.
Two men in their eighties died in Osaka City and in Ibaraki, and a nine-year-old girl was killed in the city of Takatsuki in western Japan on Monday morning, according to Japan's Fire and Disaster Management Agency. More than 200 people were injured.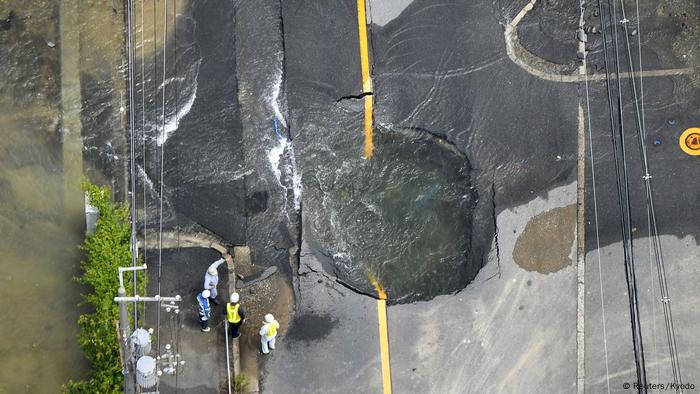 Water flows from cracks in a road damaged by the quake in Takatsuki, Osaka
The train and subway service in and around Osaka, including the bullet train to Tokyo, was suspended while checks were made. Some passengers got off trains and walked on the tracks between stations. About 80 flights from and to Osaka were canceled.
Authorities were assessing the damage caused by the quake, and rescue workers' top priority was the safety of residents, said Japanese Prime Minister Shinzo Abe. It is expected to take eight to 12 days to resume piped gas supplies to more than 110,000 residents in the Osaka region. The quake hit about an hour before the opening of the Tokyo Stock Exchange. The impact on financial markets was limited.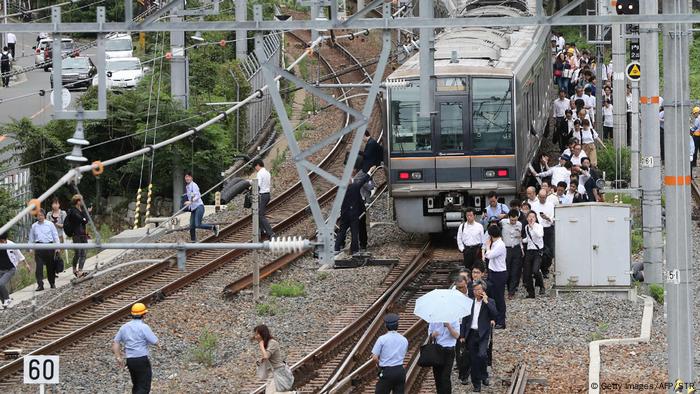 Public transport was disrupted, but there was no major damage to infrastructure
More to come?
No major damage to the infrastructure was recorded, but in Ibaraki City, a temple collapsed. The Meteorological Agency warned, however, that aftershocks could be felt over the next two to three days. In 2016, there was a 6.2 tremor two days before a 7 magnitude quake which caused injuries and damage in southern Kumamoto.
In 1995, a 6.9 earthquake killed more than 6,000 people in Kobe, 30 kilometers to the west of Osaka.
A major manufacturing center, Osaka is the headquarters for companies including Panasonic and Sharp. Production at the Honda, Mitsubishi and Toyota car plants was temporarily suspended when the quake hit.
Osaka is due to hold the G20 meeting in June 2019.
kw, jm/ng (Reuters, AP)
Each evening at 1830 UTC, DW's editors send out a selection of the day's hard news and quality feature journalism. You can sign up to receive it directly here.