"We are not here as mediators." During his trip to the Middle East, the German foreign minister would use variations of this sentence again and again. However, the war in Syria was the focal point of all talks on Frank-Walter Steinmeier's trip to Iran and Saudi Arabia, two major opponents in the region. "We would ask Iran to play a constructive role in the international community and vis-a-vis its neighbors," Steinmeier said during a speech delivered in Tehran. Two days later, that sentence was adjusted for a different setting: "We would ask Saudi Arabia to support us in finding a political solution for Syria."
German foreign ministers hadn't visited Iran for 12 years. Steinmeier was greeted like a pop star. The international deal to ease sanctions on Iran in exchange for concessions on the country's nuclear program has opened the doors for the nation to return to the global stage, and Iran has showed clear signs that it is eager to play an international role again. Steinmeier, however, affirmed that there can be no simple resumption of the good relationship of old: "The question is now whether Iran will fulfill its obligations." During his talks, he said that he had been under the impression that Iran would be willing to do so, but added that he didn't expect results before the end of January. And, even then, there can be no business as usual, with the country's leadership taking a hostile stance toward Israel and supporting Syria's ruler, Bashar al-Assad, in the multifront civil war.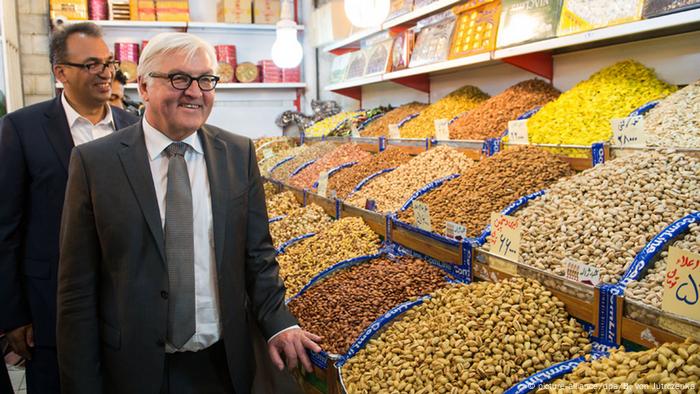 Steinmeier visiting a bazaar in Tehran
"I would ask Iran to exert influence on Assad in order to take the first steps of de-escalation," Steinmeier said during a joint public appearance with his counterpart, Mohammad Javad Zarif, who predictably came to Assad's defense.
"The Syrian people have to decide," Zarif said, repeating Iran's go-to response, which ignores the fact that, after over four years of war, Syrians do not have the luxury of making some decisions. And cooperation with Saudi Arabia also appears to be out of the question for Iran. The recent stampede that left hundreds dead - many Iranians among them - near Mecca has further strained the relationship between the two countries. With Steinmeier in town, Zarif repeated his allegation that the Saudi government had provoked the tragedy, or at least condoned it.
Saudi Arabia: The other major regional power
The Saudi government, the "Guardian of the Holy Places" of Islam, has naturally denied such allegations. Authorities call them unacceptable. Consequently, officials have about zero willingness to sit down with their Iranian counterparts to discuss solutions to Syria's civil war. Officially, Saudi Foreign Minister Abel al-Jubeir said his government would cooperate with Iran as a matter of course, but there were conditions: "Iran has to withdraw from Syria, it has to stop supporting Assad, and it must withdraw Hezbollah fighters from Syria."
Germany expects to take in up to a million refugees from Syria's civil war this year. Foreign Minister Steinmeier has called "strategic patience" one of his key diplomatic principles. That patience, however, is no longer appropriate when it comes to refugees: He wants more from wealthy Gulf states. Admittedly, no one could stipulate how many refugees a nation should be expected to accommodate. But there are other ways to provide help: "In this respect, Kuwait deserves special attention for its large-scale financial support of refugees living in camps in Jordan," Steinmeier said.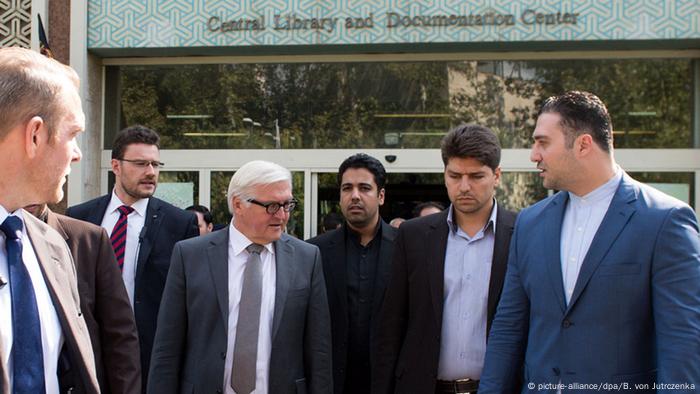 Steinmeier at the University of Tehran
The war eclipsed all other topics on Steinmeier's visit to the Middle East - including relatively positive things such as increased vocational training for women in Saudi Arabia or young Iranians' hopes for their country's future on the global stage: 6,500 Iranian women and men are studying in Germany, for example. "Mountains won't come together," the German foreign minister said in a speech at the University of Tehran, "but people will." He was quoting an Iranian proverb.