Kicking off a three-day visit to the United States on Wednesday, German Foreign Minister Frank-Walter Steinmeier together with his American counterpart John Kerry urged the warring parties in Ukraine to honor the terms of a recently-brokered ceasefire, and stressed the importance of ongoing nuclear negotiations with Iran.
The two diplomats first addressed the ongoing crisis in Ukraine, where a truce between Ukrainian government security forces and pro-Russian rebels in the country's east has largely been holding, though sporadic violence and mutual accusations of breaches persist.
"It is far too early to pat our shoulders and take pride in what we've achieved," Steinmeier said at a joint press conference in Washington.
"Both of us are far from being happy or satisfied with what we have been able to achieve so far. We have to keep up the pressure on the conflicting parties," he added.
Steinmeier said he had spoken again with Russian Foreign Minister Sergei Lavrov on the phone and urged his Russian counterpart to help make sure "daily violations of the ceasefire come to an end."
Ukraine and the West suspect Russia of propping up rebels in the eastern Ukrainian regions of Donetsk and Luhansk, charges the Kremlin denies.
'No path to a nuclear weapon'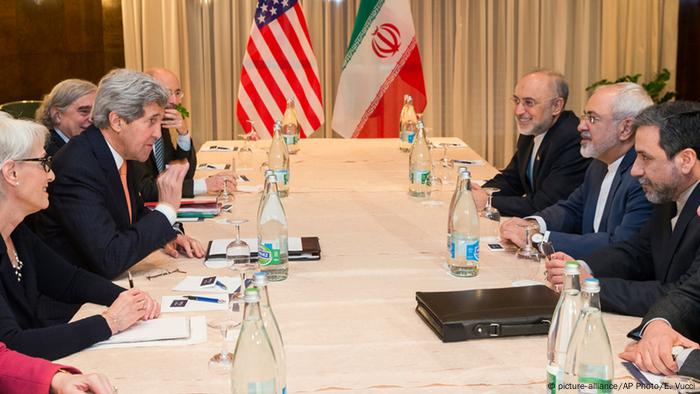 A new round of negotiations with Iranian foreign minister Javad Zarif is set for March 16 in Brussels
The two diplomats also highlighted Wednesday the importance of ongoing nuclear negotiations with Iran, and preventing the Islamic republic from acquiring a nuclear weapon.
"It's very clear what we want to see," Steinmeier said. "What we want to see is that it is made impossible for Iran to acquire a nuclear bomb."
Iran, Kerry said, needed to make "fundamental choices" in order to prove to the world that "there will be no path to a nuclear weapon and that the world can be certain of the activities that Iran is engaged in."
Steinmeier said that progress had been made in the negotiations, but that not all obstacles and sticking points had been overcome.
Iran has been suspected for more than a decade of trying to develop a nuclear weapon under the guise of a civilian nuclear program, charges Tehran denies.
Iranian Foreign Minister Mohammad Javad Zarif will hold talks in Brussels this coming Monday with his counterparts from Germany, France and Britain in another attempt to work out a deal. US President Barack Obama said his nation is prepared to "walk away" if a verifiable agreement cannot be reached.
bw/gsw (Reuters, dpa)