In Ramallah on the last-day of his Middle East tour, Steinmeier met with Palestinian Authority President Mahmud Abbas but refused to talk with the radical Islamist movement Hamas, the landslide winners of last month's general election in the West Bank and Gaza Strip.
During talks with Israeli leaders in Jerusalem on Monday, Steinmeier said that Berlin had no intention of following Russia's lead and negotiating with Hamas. Seen in Europe as a terrorist organization, Hamas is now poised to form a government after the new Palestinian parliament is inaugurated on Saturday.
Financial support to continue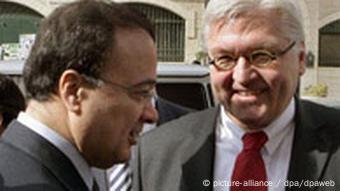 Nasser Al-Qidwa (left)
Nonetheless, Steinmeier told his Palestinian counterpart Nasser al-Qidwa that the EU would continue its financial support of the Palestinian territories for the time being, at least until the new government takes office. The 25-member bloc is the biggest source of income for the cash-strapped and corruption-ridden Palestinian Authority.
"Aid to the Palestinian people should continue whatever party is going to form the government," al-Qidwa told a joint news conference as Steinmeier looked on. "A solution should be found allowing the international community to reconcile its political positions and for aid to the Palestinians to continue," the Palestinian minister added.
Meanwhile, chief Palestinian negotiator Saeb Erakat, who also met Steinmeier, called for the "democratic choice of the Palestinian people to be respected" and for "threats of sanctioning the Palestinian people" not to be exacerbated.
"Aid from Germany, the European Union and other donor countries must continue to finance infrastructure projects in all fields," Erakat said in a statement from his office.
Preconditions
At his meeting with Abbas, Steinmeier reaffirmed Germany's preconditions for cooperating with a Hamas-led Palestinian government.
"We can only work with a government made up of political forces that renounce violence, recognize Israel's right to exist and accept all previous agreements between Israel and the Palestinian Territories," he stated.
The top German diplomat later traveled to neighboring Jordan to meet King Abdullah II. On Tuesday evening he is due to leave for Ankara, where he will try and calm tensions between Europe and the Muslim world in the wake of caricatures of the Prophet Mohammed being published in European newspapers.