"I panicked when the pandemic started because I didn't understand what was happening. I wasn't allowed to work anymore and was suddenly told to stay home and wear a mask, but no one explained why," said Yafan Bakirava. She is deaf und belongs to Georgia's Azerbaijani minority, many of whom cannot speak Georgian. She said those were the reasons why she was initially so confused about the pandemic and why so many things were suddenly not possible. No information was available in her language, Azerbaijani – neither in the area where she lives nor in the media that reached her.
If people are not aware of crucial measures for fighting Covid-19 they can inadvertently put themselves, and others, at risk. In response, a project in Georgia and Armenia is helping four local media outlets to better inform minorities and disadvantaged groups in both countries.
Programs in minority languages and subtitles for the deaf
Bakirava lives in Marneuli, a small town in southeastern Georgia that is set between the prairies and the mountains and is some 40 kilometers from the border with Azerbaijan. When the current situation allows, she works as a cleaner.
Georgia's media rarely cover the interests and concerns of the Azerbaijani minority. For example, the Marneuli Association for the Deaf – an organization to which Bakirava belongs – until recently was virtually unknown in Georgia. But that changed when the local station "Radio Marneuli" started a public campaign about Covid-19 and included translations in Azerbaijani.
Among the reports was a video about those who cannot hear and who live in Marneuli. It was produced in Georgian with Azerbaijani subtitles and described how little information on ways to best protect oneself against the virus had reached those who are deaf. It was only at the end of May 2020 that many first learned about why home quarantine had been ordered.
The award-winning video went viral on social media and raised others' awareness of the deaf population and increased solidarity. And thanks to the Azerbaijani subtitles, the deaf population could finally follow how the pandemic was developing and how the Georgian media reported about their concerns.
Refugees from Nagorno-Karabakh: Returning home unprotected from Covid-19
It is just 30 kilometers from Marneuli to the Armenian border. DW Akademie is active there, too, supporting local Armenian media in providing Covid-19 information to as many people as possible. This includes approximately 85,000 refugees from Nagorno-Karabakh – a region in the Caucasus heavily contested by Azerbaijan and Armenia.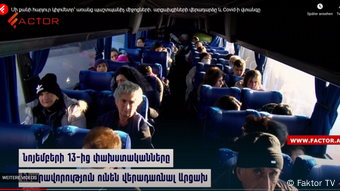 The refugees were crammed in buses, many without masks
The refugees' priority had been to survive the war and find safety. They had, however, received little information on Covid-19 or how to protect themselves from the virus. This was clear when the conflict ended and the refugees began to head home. A video produced by the local TV station "Factor TV" showed them in crammed buses, many without masks.
The report prompted the Armenian government to act and has also raised awareness among the refugees of the importance of protecting oneself, and one another, from the pandemic.
The project "Economic and Social Participation of vulnerable displaced and local population in the South Caucasus (EPIC)" was implemented by Deutsche Gesellschaft für internationale Zusammenarbeit (GIZ) on behalf of the German Federal Ministry for Economic Cooperation and Development (BMZ) in cooperation with the Ministry of Internally Displaced Persons from the occupied territories, Labour, Health and Social affairs of Georgia and DW Akademie. It ran from September 2020 to January 2021. Four local partner organizations, Hetq - Investigative Journalists and Factor in Armenia and Radio Marneuli and Radio Way in Georgia received support as well as trainings and consultations. The project focused on reporting on Covid-19 and on how to better provide information to members of minority groups.