The halls of the Bavarian taverns are already festively decorated again, dirndls and lederhosen laid out, ready to wear. With the beginning of Lent, extra-strength beers with names like Salvator, Maximator, Triumphator and Aviator are flowing from the taps.
Which of these doppelbock, or double bock, style brews ends up in your beer stein depends on the brewery it comes from. Its name will certainly end in "ator," in keeping with tradition ever since the Paulaner friars brewed the "forefather of all strong beers" — and that was a good 375 years ago.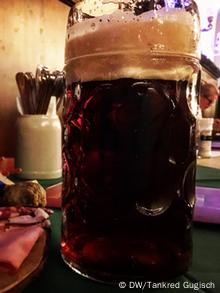 A Mass, or liter, of Maximator costs €8.30 ($9.40) in the Augustiner Keller
Moderate drinking, good music and a little exercise
My friends and I have reserved a table in Munich's Augustiner Keller. Maximator is served here: a malty, dark double bock, which won't exactly help you keep slim, as it goes all too well with a hearty meal of bread, cold cuts and cheese or crispy duck.
At first, Maximator hides its alcohol content of 7.5 percent quite well. But almost as soon as the first liter has run down your throat, the Lenten beverage somehow rises to your head. Once it arrives, it loosens your muscles and your mouth.
It's much too loud for conversation in the hall. On this particular evening the "Harthauser Musi" play the first two hours without a break. Some in the audience join in singing German language hits such as "Cordula Grün" and "99 Luftballons" at the top of their voices.
Others take to the dance floor. Whether partner dances or a Polonaise, as long as there's room between the long tables, anything goes. And of course, time and again, plenty of typically Bavarian toasts ring out, and everyone shouts along.
Dressing up to enjoy beer: Dirndls and lederhosen are part of the fun
Even though the beer has had its expected effect, we don't get really drunk this evening. Restaurant manager Thomas Walkusch tells us that in the past some vociferous arguments took place, but that since 2008, when a smoking ban came into force in Bavarian restaurants, that's pretty much over and done with. "The people walk up and down in front of the door, get some fresh air and cool down." That evidently helps.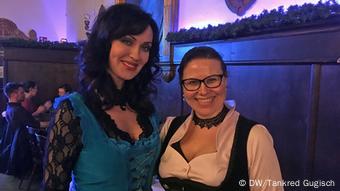 The strong beer season is dirndl season
Walbusch is also pleased that wearing dirndls and lederhosen is once again in vogue. Traditions like folk costumes and the strong beer festival spur each other on, he says. The restaurant manager adds that in the 1980s it was relatively difficult to fill the halls during the beer festival set during the period Catholics know as Lent, as traditional costumes were out of fashion among young people back then. Even at the Oktoberfest they had a tendency to wear modern suits, dresses or just jeans.
Nowadays if you look at reservation lists as a potential customer, it's painfully clear: Even weeks in advance it's hard to get a place among the party-mad doppelbock fans — who include just as many women as men on our night out.
Strong drink beer during Lent didn't break a monk's fast
Some prudent drinkers, whether male or female, stop drinking after the first liter of this extra-strength beer — or at least switch to a lighter variety. Two, three or even more liters of doppelbock are actually quite hard to handle if you plan to negotiate your way to the bus or train safely.
By way of comparison: Paulaner beer in shops or the local pub contains 4.9 percent alcohol. Oktoberfest beer contains 6.0 percent, which is clearly audible in the singing that goes on. Salvator contains 7.9 percent — which means the singing usually stops after the third liter.
It's not without a certain astonishment that we look back at the monks we have to thank for this doppelbock. After all, this is about Lent in all its austerity: For the members of the order, a fat duck to line their stomachs was an absolute taboo. But even though they were fasting, they were allowed to drink strong beer — in fact, with Papal approval. The rich malty beverage was meant to sustain them in replacement of food in their busy workaday lives. To this day there's a lovely maxim: "Liquid bread doesn't break your fast."
Why the Pope gave his blessing
To make sure that a doppelbock like the Salvator wasn't too rich for the Lenten season, in the late 17th century, Paulaner monks sent a keg of their new beer all the way across the Alps to the Pope in Rome, to ask for his benediction. When the beer arrived, weeks later, thoroughly shaken and spoiled by the heat and cold, it had long since become undrinkable.
The Pope appreciated the great efforts the monks had taken upon themselves to verify if they should continue consuming this dreadful swill during Lent — and willingly gave his approval. Supposedly the monks in their monasteries were allowed to fill their "small" tankards five times a day. Those small tankards weren't so very small: They could easily hold a liter, if not up to two.
While we're thoroughly enjoying our doppelbock evening in the Augustiner Keller's beautiful banqueting hall (who cares — we'll be hoarse in the morning anyway) our thoughts turn to the future: fewer than 24 weeks till Oktoberfest!