- An explosion reported in a train in the metro system of Russia's second largest city of St Petersburg.
- State-run news agency TASS said preliminary reports indicate that 10 people have died.
- Russian President Vladimir Putin says the cause of the blast is currently unknown.
- For a summary of the events in St. Petersburg, read a full account here.

All updates in Universal Coordinated Time (UTC)
16.48 Search warrants have been issued for two people, the Interfax news agency quotes a security source as saying. "Two people are being sought on suspicion of planning the blasts, one of whom is thought to have placed the explosive device in the metro wagon and the second person for leaving a bomb at the metro station 'Ploshchad Revolutsii'," the source said.
16:05: The French Interior Ministry reinforces security measures on public transport in the Paris region. Interior Minister Mathias Fekl says the decision was taken as a "measure of precaution" after the St Petersburg explosion.
15:50: Russian law enforcement agencies say an explosive device was found and defused at Vosstaniya Square station was rigged with shrapnel. It contained up to 1 kilogram (2.2 pounds) of explosives.
15.10: Russian Health Minister Veronika Skvortsova says seven people were killed on the spot, and another died in an ambulance. Two others died at the hospital.
14:36: Interfax cites a source saying that images of the person supposed to have planted the explosive device were recorded by surveillance cameras. The device may have been left in a briefcase in a metro train carriage, the source added.
14:17: German Foreign Minister Sigmar Gabriel has expressed his condolences following the blast, saying he had learned of the news "with deep sorrow." He said Germany's thoughts were "with our friends in Russia, the victims and their families in this dark hour."
13:34: Interfax reports that a bomb has been found undetonated at a central underground station, Ploshchad Vosstaniya.
13:17: The Moscow metro has said it has taken unspecified additional security measures in case of a blast there. The Russian National Anti-Terrorism Committee says security will be tightened at all criticial transport facilities. The blast in St. Petersburg took place between the Sennaya Ploshchad station and the Institute of Technology station, according to an emergency services source quoted by Reuters news agency.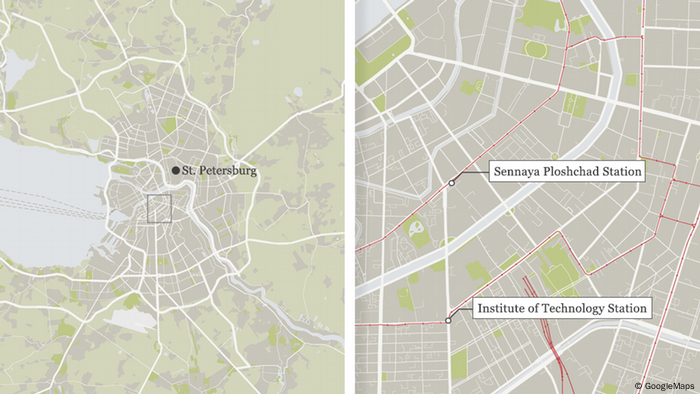 13:14: Interfax quotes an unnamed source as saying that the explosion was caused by a shrapnel-filled bomb.
13:05: News agencies say all subway stations have been closed. Earlier reports of there having been two blasts are withdrawn.
12:59: Interfax cites governor's office as saying 50 people have been wounded.
12:52: The National Anti-Terrorist Committee said an unidentified explosive device went off in a train traveling between two stations.
12:40: President Putin offers his condolences to the families of those killed.
12:35: The Russian president says that all possible causes of the explosion, including terrorism, are being considered. He says: "Law enforcement agencies and intelligence services are doing their best to establish the cause and give a full picture of what happened."
Interfax news agency put the number of wounded at 20, and confirmed a death toll of around 10.
12:33: Russian President Vladimir Putin confirms that there are dead and injured in St. Petersburg. Life News, a news outlet with close ties to Russia's security services, showed pictures of train doors that had been blown out, and people lying injured on the station platform. Another local media outlet, Fontanka said three metro stations had been closed. Putin is expected to hold talks with the Belarusian president, Alexander Lukashenko, later in the day in the city.