On Saturday Riek Machar called for armed resistance to the government in Juba – a stance that suggests the troubled country could face a renewed civil war in the near future.
Responding to Machar's declaration, Kiir said, "should he [Machar] come with whatever force that he has, he will also be met with such a force."
Speaking to DW from Khartoum, Riek Machar's spokesman James Gadet said that President Kiir had pushed them back to the bush and that they would resist by all means
"Salva Kiir has declared war on us so we are preparing for resistance," Gadet said. "The time will come when we will decide to enter Juba but currently we are on the defensive."
Annette Weber, a senior fellow with the Berlin-based German Institute for International and Security Affairs, thinks that the two sides are less likely to go back to a fully-fledged war and that what makes the message of the two leaders depressing is that they seem not care about the well-being of their people.
"They seem not to care about developing their own people and the country but rather going back to the rhetoric of war as if the country would not need something else," Weber told DW.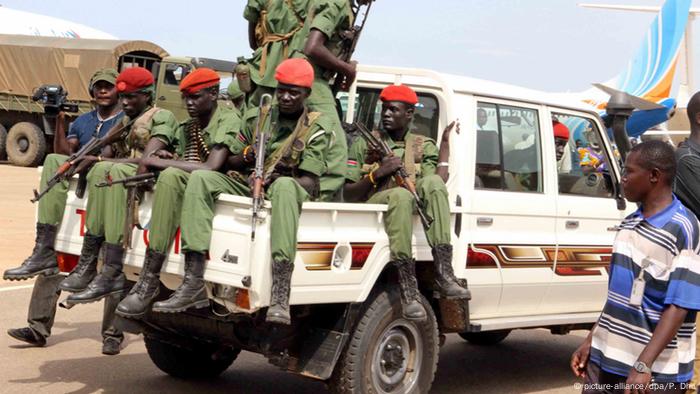 Riek Machar still has troops in South Sudan
Leaders disappoint
In his last speech as United Nations Secretary General, Ban Ki-Moon blasted South Sudan's leaders - including President Salva Kiir for betraying their own people by pursuing a violent path to power.
Ban also criticized outside powers that have supported the warring parties on both sides of the conflict but did not directly name these countries.
"Present in this hall today are representatives of governments that have ignored, facilitated, funded, participated in or even planned and carried out atrocities inflicted by all sides," he said.
"My message to all is clear: serve your people. Do not subvert democracy. Do not pilfer your country's resources. Do not imprison and torture your critics," he added.
Last month, the 15-member UN Security Council approved the deployment of an additional 4,000-strong peacekeeping force to South Sudan. The decision came after renewed clashes in the capital between the country's rival factions threatened to send the young nation back to all-out civil war.
But South Sudan's Vice President Taban Deng dismissed the need for peacekeepers in his country, insisting that peace has been achieved.
"We already have 13,000 U.N. troops in South Sudan who are sitting idle, not doing anything because there's a problem with their mandate, and there's also a problem with how they were selected," Deng said.
He added that his country isn't "a dumping place for peacekeepers who can't really help. I don't think South Sudan needs peacekeeping," Deng said, insisting that it isn't a failed nation.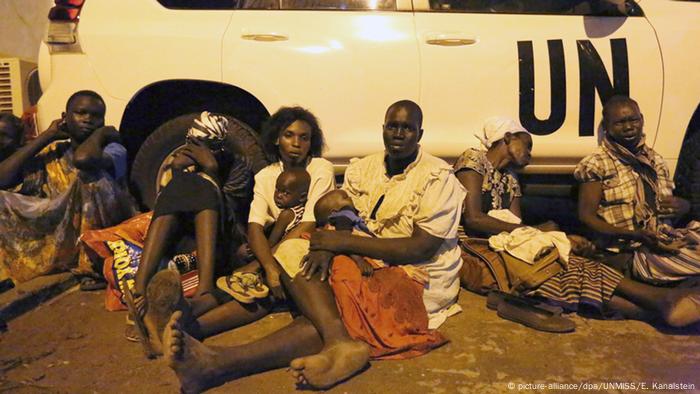 The conflict in South Sudan has displaced more than a million civillians
Machar not welcome
In the meantime, the Ethiopian government has made it clear that Riek Machar can only enter the country on a temporary basis.
Ethiopia's Prime Minister Hailemariam Dessalegn has been quoted by some media outlets saying that, "we do not need someone who is leading an armed struggle in Ethiopia."
According to Hailemariam, Machar, who is now in Sudan but lived in Ethiopia for significant stretches of the civil war, will be allowed to pass through Ethiopia in his travels but is not welcome to stay again for long periods.
For Annette Weber the frustration for Ethiopia is immense, especially when you consider the number of South Sudanese refugees in both Ethiopia and Uganda.
"These countries put a lot of efforts into the last round of peace negotiations that came to a close in August and they really wanted the country to get on its feet," she said.
Ethiopia hosted the crucial talks last year that were supposed to end the brutal civil war in South Sudan. A peace deal was signed in Addis Ababa but peace has eluded the country and thousands remain displaced.