The four men were arrested by police on Saturday in Spain's North African exclave of Ceuta, the Spanish interior ministry said. According to the ministry, the men were alleged to have formed a terror cell and were ready to launch an attack.
"There are two pairs of very radicalized brothers who are highly trained militarily, physically and mentally and are prepared to carry out an attack, and ready, according to police, to blow themselves up in the act," Interior Minister Jorge Fernandez Diaz said.
Diaz said investigators were struck by the similarities between the detained suspects and the brothers who killed 12 people when they attacked French satirical magazine Charlie Hebdo earlier this month.
According to a ministry statement, investigators were assessing the cell's infrastructure to see whether they were planning to carry out an attack in Spain.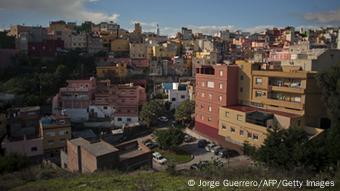 Ceuta is home to about 85,000 people
News agencies reported two houses in Ceuta were searched by police in raids on Saturday and the four arrested men were Spanish citizens of Moroccan origin.
In the weeks following the Paris attacks, Spain has stepped up security efforts, as well as efforts to prevent its young Muslim citizens from becoming radicalized. Along with other European countries, Spain fears that citizens who join jihadist groups like the self-proclaimed "Islamic State" in Syria and Iraq may return to carry out attacks on home soil.
Dozens of suspected jihadist militants have been arrested by authorities in Spain and Morocco in recent months, especially in the Spanish coastal cities of #link:17601089:Ceuta and Melilla, which lie on North Africa's Mediterranean coast and are surrounded by Morocco.
se/sb (Reuters, AP, AFP, dpa)