Perched on the side of Morocco's Mount Gourougou, Ibrahim's camp looks down towards the North African coast and the shimmering Mediterranean Sea beyond. But it is the ordinary-looking town of Melilla, sitting to the left of the panorama, that obsesses the 18-year-old and his friends.
Melilla is a Spanish enclave situated in North Africa. Reaching it means reaching Europe, which is the dream of the many sub-Saharan Africans who are living up here in a makeshift camp.
"We've got it into our heads that we have to get to Europe, however difficult that might be," says Ibrahim, who is from Ivory Coast.
He left his home three years ago, with the blessing of his family and the aim of getting to Europe and starting a new life. He crossed Mali and Algeria before arriving at Gourougou, which is just a few kilometers from Melilla.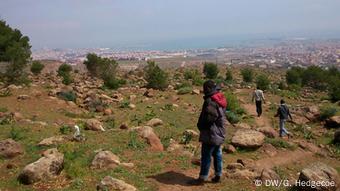 Dozens of migrants from Ivory Coast are living rough in a makeshift camp just outside the enclave of Melilla
"This is not a life," Ibrahim says of the camp. "There are Moroccans who say that this is how we live back home, but that's not true, we don't live in these conditions, it's unbearable."
The camp is home to several dozen men and teenage boys, all from Ivory Coast. They sleep in tents fashioned from plastic sheets and eat staples such as rice, which they cook in battered old pans over open fires.
A daunting obstacle
Ibrahim, like many of the others in the camp, dreams of one day living in the Spanish capital and of going to the city's Bernabeu soccer stadium to watch Real Madrid. But first he must get over the six-meter-high fence that surrounds Melilla. Ibrahim has tried to scale it about 10 times, he says, descending stealthily in the night with others from the camp, but each time he's been thwarted by Moroccan soldiers.
Many of the migrants in the camp have injuries from attempting to climb the fence, particularly limbs that have been slashed by the razor wire that covers parts of it.
Angel Garcia, a priest who heads the non-governmental organization Messengers of Peace, recently appealed to Spain's congressional deputies to take down the razor wire. However, the conservative government of Mariano Rajoy insists that it is necessary to ensure the security of the border.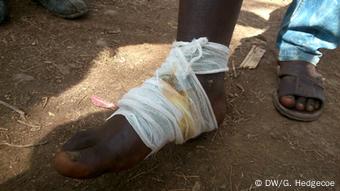 Many people have been badly cut by razor wire while trying to scale the border fence.
"We have a migratory wave of thousands and thousands of people who want to reach Spain and the EU illegally," Interior Minister Jorge Fernandez Diaz warned in March. In justification of the government's stance, he maintained that 40,000 sub-Saharan Africans were already in Morocco waiting to cross into Melilla and Ceuta, Spain's other North African territory. He also estimated that a further 40,000 were on their way from Mauritania.
"Spain is never going to renounce its right and its duty to control its borders, and the perimeter borders of Ceuta and Melilla will keep being guarded to ensure that Spain is not entered illegally," the minister added.
Spain under pressure
While the numbers he cites are virtually impossible to verify – and several NGOs have disputed them – official data shows that in the first two-and-half months of this year, just over 1,000 people reached Ceuta and Melilla by scaling the border fences. That was many more than during the equivalent period in 2013.
Some migrants choose to travel in small boats, or hidden inside cars, to get to Spanish territory, but jumping the fence is increasingly common.
Spain's handling of the immigrant issue is under scrutiny. On February 6, at least 15 migrants died in the water as they tried to swim round Ceuta's border fence. When it emerged that Spanish civil guards had fired rubber bullets into the sea near the migrants, European Commissioner Cecilia Malmström was among those who demanded an explanation from Madrid.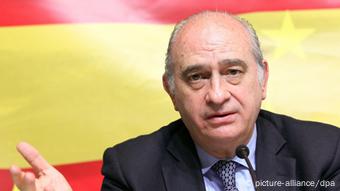 Spain's Interior Minister warns that tens of thousands of migrants want to enter the EU via Melilla and Ceuta
With the political opposition and charities alike questioning the government's security measures and the behavior of the Civil Guard, pressure is mounting on the government and security forces.
"In the end it's the civil guards that actually have to do the job, and we don't know if we're doing it right or not," says Juan Antonio Delgado, spokesman for the AUGC, the equivalent of the Civil Guard's labor union. "Two or three hundred civil guards are guarding the border of Europe, the border that affects millions of Europeans."
The Spanish authorities are also facing accusations of flouting immigration protocol. In theory, once an immigrant has got over the border fence and onto the Spanish side, they are allowed to stay in the country. But many migrants say that they have been sent straight back to Morocco after successfully getting over the fence, a claim backed up by Delgado.
An African Marshall Plan?
Given the legal, humanitarian, security and economic issues at play, some believe that a dramatic policy shift is needed to tackle Europe's immigration challenge.
"If you ask me how to solve this, then I'd say we need a rapid, radical change in international economic policy, above all for sub-Saharan Africa," says Esteban Velazquez, who works for the Catholic Church helping immigrants in northern Morocco.
"Africa needs a Marshall Plan, like the one Europe needed after the Second World War," he adds. "That requires an emergency mentality."