According to the UN report 150,000 people in the states of Jonglei, Upper Nile, Unity and Western Bahrel Ghazal could be hit by famine this year. Food insecurity is at an "unprecedented level," Ross Smith from U.N's World Food Program (WPF), told The Associated Press news agency.
South Sudan won independence from Sudan in 2011 but descended into civil war about two years later. The conflict was triggered by the dismissal of Vice-president Riek Machar by President Salva Kiir. Tens of thousands of people have died and about a third of the population has fled their homes. Of that number, more than two million have left the country. Recently, the United Nations Office for the Coordination of Humanitarian Office (OCHA) said it was expecting about 200,000 more refuges in 2018, which would place further pressure on food distribution.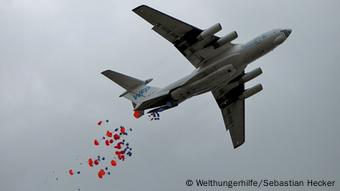 Access to the needy population is still difficult in South Sudan
War crimes and crimes against humanity
A year ago South Sudan declared famine in two counties where 100,000 people faced starvation. A rapid aid response by the international community prevented the worst and the declaration was lifted in June. While welcome, humanitarian aid is also seen with skepticism by the South Sudanese government. The minister of humanitarian affairs and disaster management Hussein Mar Nyot warned that a country that relied on aid "will develop a dependency syndrome," which would eventually cripple the nation.
Observers are more afraid that the situation will deteriorate if no political solution to the ongoing armed conflict is found. Fighting has prevented farmers from raising crops, further exacerbating the crisis. While Kiir's government last year allowed unrestricted access for aid groups, the situation has not improved. The upcoming dry season presents a new threat. Alice Luedke, a researcher for the rights organization Amnesty International, said human rights violations were ongoing "including blocking of civilian access to food by both the government and opposition forces."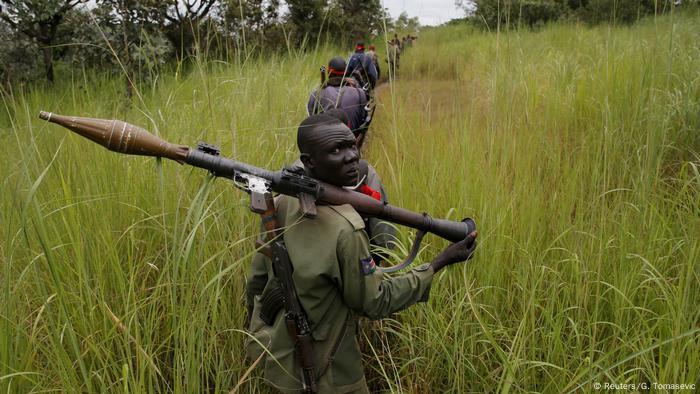 Only the end of the civil war will make food stability possible, observers say
Another report by the UN on human rights abuses in South Sudan, identified more than 40 senior military officials, including three state governors, "who may bear individual responsibility for war crimes and crimes against humanity."
If the situation persists, aid workers warn, food aid will nor be enough to prevent severe hunger in more than 30 counties by May. Large-scale assistance would then be required. But so far the UN has received less than four percent of the funding earmarked for the South Sudan action plan in 2018. A gap of $1.7 billion (€1.3) has yet to be plugged.