A 21-year-old US soldier has been sentenced to 10 years imprisonment for repeatedly sexually assaulting an 18-year-old girl. The soldier had been based at the US Second Infantry Division base in Dongducheon city, north of the capital Seoul.
In a statement circulated by the Yonhap news agency, the Uijeongbu District Court says, "As the accused satisfied his sexual desire in a sadistic and perverted manner for three hours, the victim suffered fear and humiliation."
The court has also detailed the manner in which the US soldier entered the girl's dorm-style room near Seoul on September 24 and sexually tormented the victim while threatening her with a pair of scissors. He also stole 5,000 won (4.50 dollars) before escaping.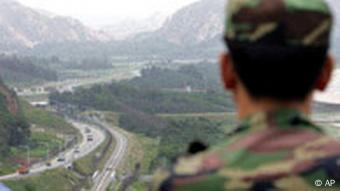 South Koreans feel that the presence of US soldiers may help deter the north
In addition to the soldier's sentence, court spokesman Lee Sang-yup said that he has been ordered to attend 80 hours of counseling and that his personal information will be published on a South Korean government website for 10 years.
Prosecutors had initially demanded 15 years imprisonment for the soldier. According to Lee, the court took his young age into consideration and the fact that this was his first crime.
The US apologizes
US Assistant Secretary of State Kurt Campbell apologized for the incident while on a visit to South Korea last month. The US military also imposed a month-long late night curfew on its soldiers countrywide.
There are nearly 28,500 US troops stationed in South Korea. While many citizens see their presence as important for fending off attacks from the north, there have been several cases where tension with the US army has flared up.
In 2002, a US armored vehicle killed two schoolgirls in a traffic accident. The acquittal of the two soldiers involved sparked protests against US military presence across the country.
The latest incident, however, is the longest sentence handed down from a South Korean court to a member of the US army since a soldier had been sentenced to life in jail for murdering a Korean woman in 1993.
Agencies: AFP, AP (mg)
Editor: Sarah Berning