Local media showed protesters in the South African capital, Pretoria, joining an anti-immigrant march on the Foreign Ministry on Friday, with some carrying makeshift weapons.
Foreign nationals also gathered to protest and police fired tear gas, rubber bullets and water canon to disperse the rival crowds. They had formed a barrier between opposing crowds of citizens and non-South African nationals, but both sides began shouting at one another and brandishing rocks and sticks, prompting police to disperse them.
Shops were shuttered in Marabastad, an area of western Pretoria where many foreign nationals have their stores, and roads were blocked as the marchers gathered. Some of the foreigners carried rocks and sticks, saying they were ready to protect their stores.
One Somali shop owner, 37, said he feared for his life. "My shops get looted a few times a year," he said.
'We are scared'
Over the past week more than 20 shops have been targeted in Atteridgeville, outside Pretoria. Residents in Rosettenville, south of Johannesburg, attacked at least 12 houses.
"We have decided to not leave the house [during the march]," said Alain Bome, a 47-year-old from the Democratic Republic of Congo who has been in South Africa for 14 years. "We know very well there have been attacks. We are scared," he added.
The Nelson Mandela Foundation, guardian of the legacy of South Africa's famed first post-apartheid president, criticized the authorities for "giving permission for a march of hatred."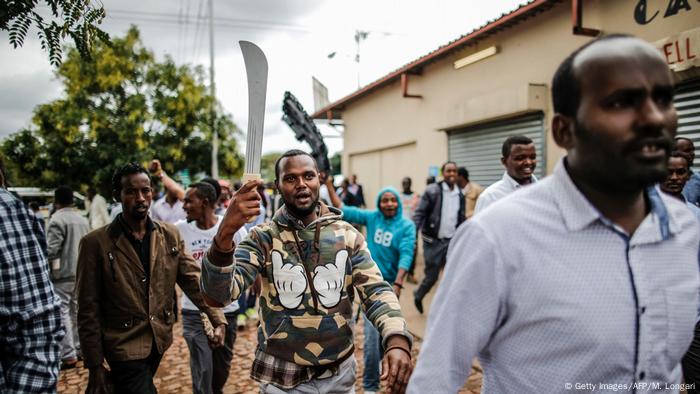 Somali migrants, armed with machetes and rocks, demonstrate against xenophobia in the Marabastad neighborhood of Pretoria
Anti-immigrant violence has flared sporadically in South Africa against a background of high unemployment, with foreign nationals being accused of taking jobs from South Africans and being involved in crime.
One Nigerian national DW spoke to rejected accusations they were stealing jobs from locals. "Why are they attacking us? We are not working under the government. We are working for ourselves. We are fighting for our life to be living in South Africa in peace," he said.
The Nigerian government this week called for the African Union to step in to stop "xenophobic attacks" on its citizens in South Africa, claiming 20 Nigerians were killed last year.
South African authorities dismiss such numbers, saying many violent deaths in the country are due to criminal activity rather than anti-immigrant sentiment.
Zuma appeal
Mokgoka Lekganye, spokesman for the Mamelodi Concerned Residents organization, which organized the march, denied that it was xenophobic.
"We are against any xenophobic attacks. Our march is to take our objections to the Department of Home Affairs, the Department of Labour and the police," he said.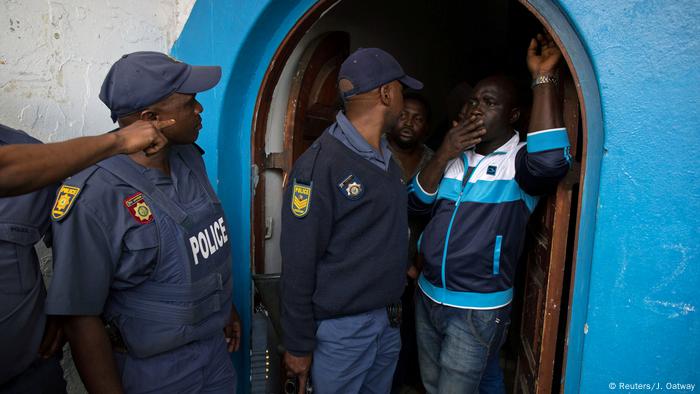 South African police protect members of a Nigerian church after they were surrounded by a mob outside a church in Pretoria
Earlier President Jacob Zuma's office had issued a statement saying South Africans should not blame all crime on non-South Africans.
"Many citizens of other countries living in South Africa are law abiding and contribute to the economy of the country positively," Zuma said. "It is wrong to brandish all non-nationals as drug dealers or human traffickers."
President Zuma insisted South Africans were not xenophobic, and he called on everyone, citizens and non-citizens, to work together to combat the country's high crime rate.
Despite South Africa's high unemployment, the country is one of Africa's largest economies and remains a favorite destination for people from far more impoverished nations across the continent. Businesses run by Somalis, Ethiopians and others are often targeted in anti-foreigner protests.
But amid the anti-immigrant sentiment, government data show the number of foreign-born people in South Africa has declined. A report last year said the 1.6 million foreign born people was down from 2.2 million in 2011, in a country of more than 55 million people.
Thuso Khumalo contributed to this report