At a two-day African Union summit in Addis Ababa, many eyes will be on Nkosazana Dlamini-Zuma, one of South Africa's most powerful women. She has her own eyes on the AU's top executive position and has mounted a strong challenge to the incumbent AU Commission Chairman, Jean Ping from Gabon. If successful, she would be the first woman to hold the post.
Dlamini-Zuma has served in the cabinet of every South African president since Nelson Mandela became the country's first black leader in 1994. She trained as a doctor and her first post under Mandela was that of health minister. Later, as foreign minister, she earned praise for her diplomatic skills, although her stern manner has undoubtedly lost her some popularity points.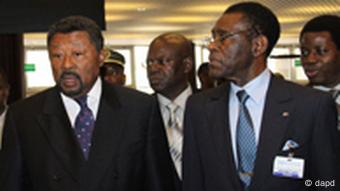 Jean Ping (left) can count on plenty of support in his bid to stay in office
Her former husband, South Africa's current president Jacob Zuma, appointed her home affairs minister, a post she still holds today. The two were divorced in 1998.
Votes for the AU Commission chairmanship will be cast in a secret ballot on January 30, with two-thirds needed to determine the winner.
Incumbent chairman Jean Ping is said to be confident of re-election, although he has been criticized for not reacting strongly enough to a number of crises that have struck the African continent during the past 12 months.
These include the wave of attacks in Nigeria by the radical Islamist movement Boko Haram, tensions between Sudan and newly-independent South Sudan, concerns about stability in the Democratic Republic of Congo following disputed elections, and the ongoing attacks by al-Shebab forces in Somalia and across the border in Kenya.
The official theme of the 18th AU summit is "Boosting Intra-African Trade". The aim is to improve economic ties between African countries, many of whom still have their strongest trade ties with their former colonial rulers.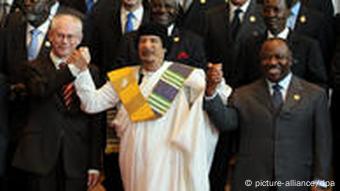 The late Moammar Gadhafi hosted an AU/EU summit in 2010
The African Union is the successor to the Organization of African Unity which had been criticized for being just a talking shop and 'dictators' club'.
In 2002, on the initiative of the late Libyan leader Moammar Gadhafi, the AU came into existence, its declared aim being to accelerate the process of integration on the continent, and to enable it to play its rightful role in the global economy.
This is the first summit to be held since Gadhafi's death. Libya, which previously provided some 15 percent of the AU's budget, will be represented by Prime Minister Abdel Rahim al-Kib.
Also present will be UN Secretary General Ban Ki-moon as well as Jia Qinglin, chairman of China's political advisory body, the People's Political Consultative Conference.
Author: Susan Houlton (AFP, AP, epd)
Editor: Mark Caldwell/mik