South Africa's peaceful transition from authoritarian rule under apartheid to a pluralistic democracy, bringing an end to decades of oppression and state-sponsored ­violence, set new global standards for peace, reconciliation and democratization.
But in recent years, the pioneering spirit behind that transition appears to have been replaced by a seemingly insatiable sense of greed among many of the country's political elites, as the country's electorate continues to firmly place its loyalty in the same hands nonetheless.
When the African National Congress (ANC) came into power in 1994, it ruled as part of a multiparty Government of National Unity (GNU) under President Nelson Mandela, creating a system of checks and balances by default, as various parties in government effectively held each other to account this way.
As of 1999, however, the ANC started to rule as the only party under then-President Thabo Mbeki, even clinching a two-thirds majority during elections in 2004. Thus began the ANC's internal conflicts, as infighting took over an increasingly powerful – and apparently power-hungry – ANC and a descent into corruption that practically flipped the country's inspirational story on its head.
Under the next president, Jacob Zuma, South Africa's newspapers became used to chronicling one corruption story embroiling Zuma and his inner circle after the next, with the president reportedly manipulating numerous state institutions to serve his personal interests at the taxpayer's expense.
Read more: South Africa's ANC wins reelection
Investigative South African journalist James Styan, an expert on state capture especially in the country's utilities sector, explained to DW that during Zuma's tenure, it became "more beneficial for businesses to have connections with the ANC elite than it is to have connections with the state."
Ramaphosa's uphill battle
The list of accusations against Zuma in particular is long, and many of the charges against him remain under investigation. However, Zuma's nine years in office were undeniably fraught with scandal, leaving incumbent President Cyril Ramaphosa to pick up the pieces after him.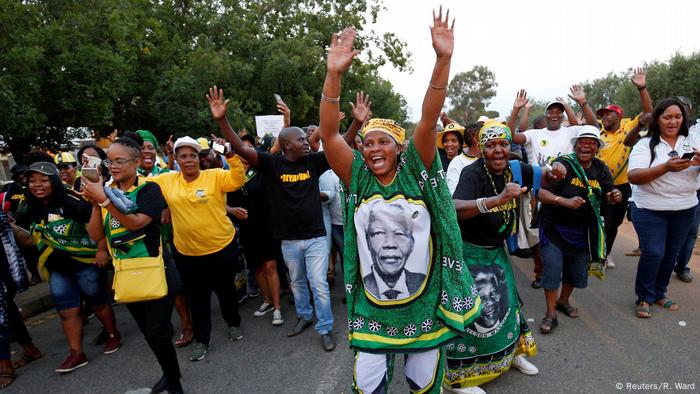 South Africa's African National Congress (ANC) won reelection in early May, managing to garner 57% of the vote
"The consequences of keeping the ANC in power are most clearly defined in the ­economic performance of the country," Styan told DW. He highlighted South Africa's poor economy, plummeting currency and painfully insufficient service delivery, affecting the nation's power grid in particular, as load shedding continues to affect millions of South Africans each day.
If it's not this utility crisis, it's the prospect of another drought in Cape Town, not to mention the country's murder rate, the subject of land redistribution, unemployment, poverty, malnourishment, immigration, xenophobia and racism. The only place where new South Africa's egalitarian principles ever seem to apply is once every five years at the ballot box – though little ever changes there.
Loyalty above scrutiny
Yet despite all the country's internal dysfunction, South Africans in the millions will likely continue to vote for the ANC for decades to come. "The masses remain largely poorly educated and stuck deep in poverty," James Styan says. "The ANC relies on these masses to keep voting for it."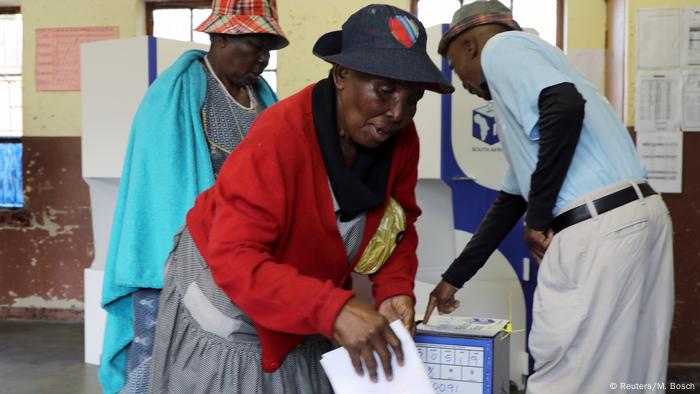 An elderly voter casts her ballot in Seshego during the South African elections May 8, 2019
Read more: Opinion: Nelson Mandela party's last easy win in South Africa
Even among the "born-free" generation in South Africa (born after 1994), there's broad support for the ANC. The secretary general of ANC Youth League (­ANCYL), Njabulo Nzuza, repeatedly came to President Zuma's defense in the past: "It's not Zuma who sits on the ballot, it's the ANC," Nzuza said, echoing the notion of loyalty voters across the nation feel when they hear the three-letter-name of their party mentioned anywhere.
Rallying around the rainbow
But the ANC, despite its pitfalls, manages to still draw massive crowds to their rallies and, more importantly, to the ballot box, leaving any opposition trailing behind with envy. It is the only political party, after all, that unites so many South Africans under one flag, a feature it inherited from its former role as the nation's leading liberation movement.
Above all, the party responds to the wounds of apartheid like no other movement has, bringing together various factions, tribes and ethnic groups which otherwise would not even want to be in the same room together. And that is a feat bigger than any corruption scandal. The ANC is a true rainbow party for a rainbow nation, where many of its voters don't seem to care about the fact that the proverbial pot of gold at the other end is being plundered by those they voted into power.
Sertan Sanderson is a reporter and editor at DW.