President Zuma had sacked Finance Minister Nhlanhla Nene late on Wednesday, sparking a wave of criticism that brought turmoil to markers after naming the relatively unknown lawmaker David van Rooyen as his successor.
"Critics would say having a finance minister serving only two days doesn't bode well for the reputation of South Africa," Mohammed Nalla, head of research at Nedbank Capital, told the Reuters news agency.
Presidential mea culpa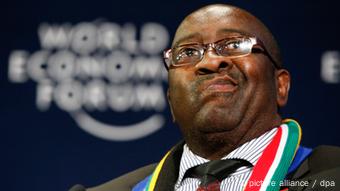 Previous Finance Minister Nhlanhla Nene was sacked on December 9
In a statement, the president admitted that he had made a mistake.
"I have received many representations to reconsider my decision. As a democratic government, we emphasize the importance of listening to the people and to respond to their views," Zuma said.
Gordhan brings experience to the job having held the post from 2009 until last year.
This week's removal of Nene, who was keen to rein in government spending in Africa's most industrialized economy, sent the rand currency to record lows, sparked a sell-off in bank stocks and sent yields in both local and dollar-denominated debt soaring.
But Sunday's announcement appointing Gordhan to the post has calmed jitters, sending the rand surging nearly five percent on Sunday evening. The low was 14.96 to the US dollar.
And what of van Rooyen who spent less than a week on the job? The president's office says he'll become the next minister of cooperative governance and traditional affairs.
jar/gsw (Reuters, AFP)