Somalia's security forces have ended a deadly siege by Islamist militants of a government building in the capital of Mogadishu, police said Saturday.
It was the second such attack in three weeks and the latest in a campaign of violence by Al-Shabab militants.
How the attack unfolded:
Militants detonated a car bomb close to the country's labor and works ministries on Saturday morning.
At least five Al-Shabaab fighters stormed the building and an hourslong gun battle broke out with security forces.
Fifteen people were killed, including the deputy minister of labor and several police personnel, a senior police spokesman told the Reuters news agency.
Other initial reports put the death toll at five or more.
Ten others were wounded, according to Captain Mohamed Hussein from Somalia's security forces.
Within minutes of the attack unfolding, Al-Shabab claimed responsibility in a statement.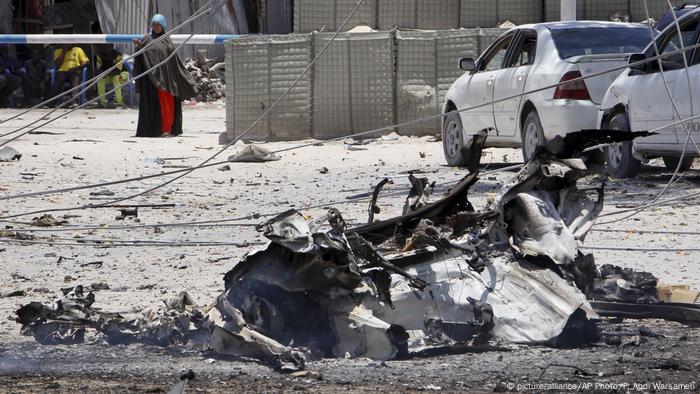 A car was destroyed in the suicide attack outside the gates of a government building
Read more: Somalia orders top UN official to leave the country
EU aligns with Somalia's leaders
The European Union sent its condolences to victims' families from Saturday's attack. "The EU stands by the Somali people and authorities, supporting their aim of building a stable and secure country and of fighting such terrorist acts," the spokesperson for the bloc's European External Action Service said in a statement.
Read more: When al-Qaida brought terror to East Africa
Who is Al-Shabab?
The al-Qaeda-affiliated group has been fighting for years to take power in Somalia and create an Islamic state. It frequently carries out suicide bombings targeting public places, hotels and government offices. Al-Shabab was also responsible for the 2013 Westgate shopping mall attack in Nairobi, Kenya, which left 71 people dead.
After being pushed out of Mogadishu in 2011, the group mostly operates from rural areas in the country's south. The militants have, however, recently stepped up their attacks in the capital.
Read more: Life in Somalia under peacekeepers and al-Shabab threats
US assists in fight back
The US military has maintained a presence in Somalia since 2007, however, airstrikes from both drones and manned aircraft have tripled since the beginning of the Trump administration. The US Africa Command says it has killed 52 militants since February 23. Washington has faced accusations of war crimes over its campaign.
mm/amp (AFP, AP, Reuters)
Every day, DW's editors send out a selection of the day's hard news and quality feature journalism. Sign up for the newsletter here.