At least 74 people died and 1,000 were injured at a soccer stadium in Egypt on Wednesday after fans rushed the field following a game against a rival team, state TV reported.
The violence took place at a match in the city of Port Said between Al Ahli, one of Egypt's highest-ranked clubs, and home team al-Masry. Al-Masry won the match 3-1, and the team's fans swarmed the field, chasing rival players and fans. Reports said some threw stones and sticks at each other.
Deputy Health Minister Hesham Sheiha said most of the injuries were concussions and deep cuts. He told state television that the incident was the "biggest disaster in Egypt's soccer history."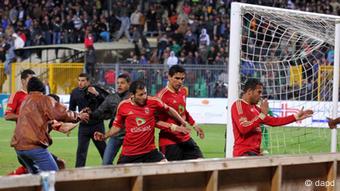 The deputy health minister called the riot the 'biggest disaster in Egypt's soccer history'
News reports quoted a medical official who spoke on condition of anonymity as saying some of the dead were security officers.
The Egyptian state prosecutor has ordered an immediate investigation into the violence.
Ahli player Mohamed Abo Treika said in a television interview that the violence was like war.
"This is not football. This is a war and people are dying in front of us. There is no movement and no security and no ambulances," he said. "I call for the premier league to be cancelled. This is a horrible situation and today can never be forgotten."
FIFA President Sepp Blatter, meanwhile, described the riot as "a black day for football."
acb/msh/jw (AP, Reuters)