The World Health Organization (WHO) reported its European region to be on track to hit targets set in 2012 to reduce premature mortality by 2020. But the organization said much more could be done to reduce major risk factors, addressing smoking and drinking habits.
Most of the progress in the region since 2012 resulted from "improvements in countries with the highest premature mortality," the UN agency's report said.
But it warned that "alarming" rates of smoking, alcohol consumption and obesity in Europe could set back progress in reducing premature mortality.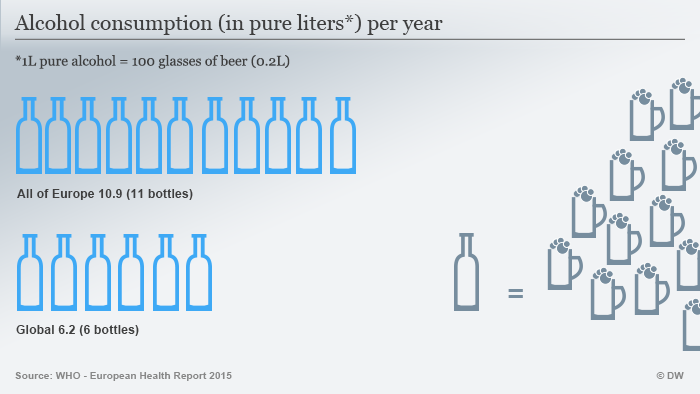 'Next generation may lead shorter lives'
While Europeans are living longer than ever before, there remain "unacceptably high" differences in life expectancy between countries in the report, with an 11-year gap between the highest and lowest. Average life expectancy for men and women was reported to range from 71 in Belarus, Moldova and Russia to 82 for countries like France, Italy and Spain, according to the latest figures from 2011.
Levels of premature mortality from non-communicable diseases - including cancer, cardiovascular diseases, diabetes and chronic respiratory diseases - were decreasing "quickly" while levels of alcohol consumption, tobacco use and obesity remained high, which "could mean that this progress is not maintained," the report said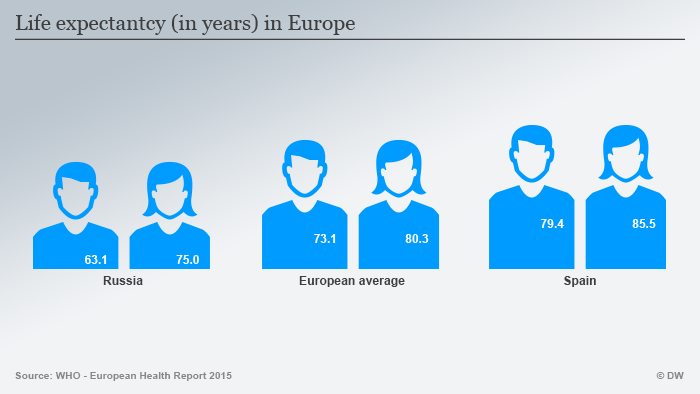 "Europeans live long lives and healthy lives. We are the longest-living region in the world," said Claudia Stein, a senior WHO director for Europe.
"[But] if rates of smoking and alcohol consumption and obesity do not decline, we may risk the gains in life expectancy we have seen - which may mean that the next generation may lead shorter lives than that we do."
The report estimated that on average 11 liters of pure alcohol were drunk per person each year, while 30 percent of the population continued to use tobacco.
Losing the war against obesity?
Meanwhile obesity rates were also increasing, with 59 percent of Europe's population either overweight or obese, ranking only slightly behind the Americas, which have the highest rates in the world.
Turkey, Britain, Poland, the Czech Republic and Israel were among the nations with the highest rates of overweight and obese adults, the report said. The Netherlands had recently scored as the skinniest EU country.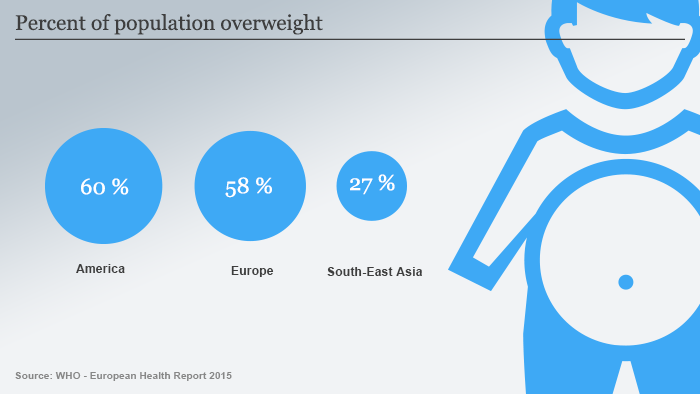 "Smoking rates are going down everywhere - we have very few exceptions - but obesity is increasing and one does not offset the other," Stein said.
"What we do not want to see is that we are winning the war against alcohol and smoking but losing the war against obesity."
ss/cmk (AFP, dpa)