Slovenia's president, Borut Pahor (photo above), dissolved the country's parliament on Saturday, paving the way for an early vote.
"On this day, I dismiss the parliament and determine June 3 as the date for an early parliamentary election," President Pahor told a news conference.
He urged a "tolerant atmosphere without hate speech" during the election campaign.
The decision to hold the earlier election comes after the Supreme Court blocked a €1 billion ($1.24 billion) railway project proposed by former Prime Minister Miro Cerar and ordered a second referendum on whether it should go ahead. Cerar tendered his resignation over the ruling on March 14 but said he would stay in his position until a new government could be formed.
Cerar's government faced a recent wave of strikes by public sector workers amid Slovenia's economic recovery.
Close race expected
Some 1.7 million Slovenians are eligible to cast their ballot in the June 3 election and will choose from among 20 political parties that will seek a majority in the 90-seat parliament.
Opinion polls have put the center-left List of Marjan Sarec (LMS), which is running for the first time, ahead in the race. The party is led by Sarec, the mayor of Kamnik city.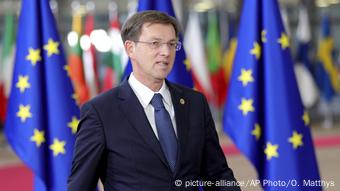 After his resignation, Cerar urged Slovenians to "judge between right and wrong"
Analysts say, however, that the result is hard to predict, as other parties could close the gap.
"I expect that the winning party will form a government coalition, but it is impossible to say which party will win," Peter Jancic, a political analyst and the editor of political website Spletni Casopis, told Reuters news agency.
Read more: Slovenia: President Borut Pahor wins runoff presidential election
Economic sustainability
Cerar's government planned to build a 27-kilometer (16.8-mile) railway line between the Italian border city of Divaca and the state-owned Adriatic seaport Luka Koper.
It had won the public's support for the project in a first referendum, but the top court annulled the result following a complaint from a civil society group regarding the use of campaign funds.
The civil society group Taxpayers Don't Give Up brought the case to Slovenia's Supreme Court, arguing that the government had an unfair advantage in the referendum because it used €95,000 ($117,301) of public funds to support its campaign.
Slovenia, a small European nation, narrowly avoided an international bailout for its banks in 2013, but its economy started improving a year later. The government expects it to grow by 5.1 percent this year.
The new government, however, will be tasked with cutting public spending to lower public debt.
Read more: Melania Trump's Slovenia
shs/tj (Reuters, AP)
DW's editors send out a selection of the day's hard news and quality feature journalism. You can sign up to receive it directly here.