Polls opened on Sunday morning in the Slovenian presidential election runoff, with incumbent President Borut Pahor hoping to win a second five-year term against Marjan Sarec, the mayor of the Alpine city of Kamnik.
Polls opened at 7 a.m. (0600 UTC) and will close again at 7 p.m. (1800 UTC). Initial results are expected around two hours after voting closes.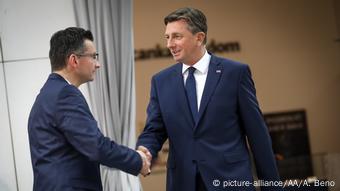 Borut Pahor (R) shakes hands with his opponent Marjan Sarec (L) ahead of the runoff vote
Read more: Slovenian tourism stirs 'Melania Trump' hype
Opinion polls published on Friday showed Pahor securing between 52 and 56.3 percent of the vote, but analysts said the outcome was uncertain, as Sarec has closed the polling gap in recent weeks.
The incumbent president was expected to win the first round of voting outright, but ended up receiving 47.1 percent of the vote in the October 29 election. His opponent Sarec won around 27 percent of the votes.
Read more: Melania Trump lawsuit threat forces Zagreb language school to remove billboards
'King of Instagram' vs former actor
Pahor previously served as Slovenia's prime minister and was a long-time leader of the center-left Social Democrats, although he is running as an independent candidate in the presidential election.
The 54-year-old is a former fashion model known as "the king of the Instagram" for frequently posting photos on the social media app showing him carrying out his official duties, but also participating in sports activities.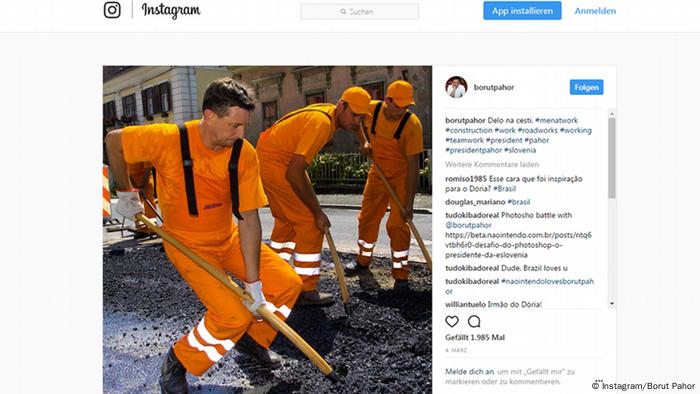 One of Pahor's Instagram posts depicts him assisting with road work
Read more: Slovenia wins maritime border dispute, Croatia defiant
Pahor served as Slovenian prime minister from 2008 to 2012, the years which led to the worst financial crisis in the Balkan country's history. The country narrowly avoided an international bailout for its banks in 2013.
His opponent Sarec, a 39-year-old former comic actor, is also running as an independent and has portrayed himself as anti-establishment. He has won two terms as mayor of Kamnik, located 20 kilometers (12 miles) north of the capital Ljubljana.
Although the role of Slovenia's president is mainly ceremonial, the president leads the country's army and nominates several top officials, including the central bank governor. Most of the nominations must be confirmed by parliament.
rs/rc (dpa, Reuters)