The men wanted by the UK over the poisoning of former double agent Sergei Skripal denied any wrongdoing in a joint interview released on Thursday.
"I think it's pretty much nonsense," said one of the suspects, Alexander Petrov, when asked if they had any sort of poison with them during their trip to the UK.
Read more: UK to request extradition of Russian attack suspects
Talking to Margarita Simonyan, the editor-in-chief of Moscow-funded RT, Petrov and Ruslan Boshirov denied being agents of the Russian military intelligence GRU. They said they were working in the area of fitness supplements.
"We fear for our lives," Boshirov said, with Petrov commenting that the UK was offering a reward for the two of them.
"After our lives turned into a nightmare, we didn't know what to do, where to go," said Petrov.
They also said they would appreciate an apology from London.
Read more: Novichok came in 'expensive' looking perfume bottle, victim Charlie Rowley says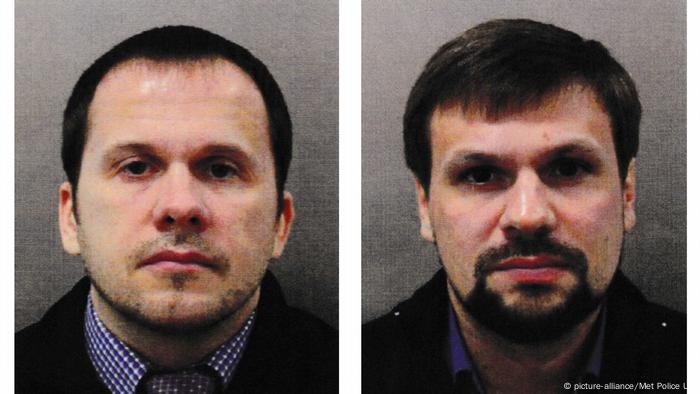 Petrov (L) and Boshirov (R) in the pictures published by British police
Suspects deny knowing about Skripals
UK authorities charged Petrov and Boshirov in absentia with the poisoning of the double agent Sergei Skripal and his daughter, Yulia, in Salisbury. Officials published photos of the two passing through the gate at London's Gatwick airport and walking on the streets of Salisbury. They were also seen near Skripal's home. The names Alexander Petrov and Ruslan Boshirov were aliases, according to the UK.
During the interview on Thursday, the two men said the names were their own. When asked about their visit to Salisbury, the two said they were visiting the "wonderful" town as tourists, but gave it up after one hour due to bad weather. When asked if they got near Skripal's house, they said they did not know where it was.
"Maybe we passed it, or maybe we didn't," said Boshirov. "I'd never heard about them before this nightmare started."
Interview as 'protection'
Just a day before the interview with Kremlin-backed RT, Russian President Vladimir Putin publicly stated that the two suspects were "civilians."
"We know who they are, we found them," Putin said at an economic forum in Vladivostok, insisting once again that Russia was not involved in the Skripal poisoning.
"Well, I hope they will come out themselves and speak about themselves. It will be better for everyone," he added.
Petrov and Boshirov said they decided to contact the editor of RT personally to ask for "protection" and appeal to the global media to leave them alone.
"This whole situation is a fantastical, fatal coincidence," Boshirov said.
UK slams 'obfuscation and lies'
London rejected the suspects' claims soon after the interview was aired. The government said it was "clear these men are officers of the Russian military intelligence service — the GRU — who used a devastatingly toxic, illegal chemical weapon on the streets of our country."
Read more: Kremlin says linking Russia with new Novichok poisoning is 'absurd'
"We have repeatedly asked Russia to account for what happened in Salisbury in March," the UK said in a statement. "Today, just as we have seen throughout, they have responded with obfuscation and lies."
Every evening at 1830 UTC, DW's editors send out a selection of the day's hard news and quality feature journalism. You can sign up to receive it directly here.