Dieter Althaus, State Premier of the German state of Thuringia, only awoke from an induced coma days after the accident in which a Slovakian woman died.
The Christian Democratic politician was put into a coma due to the serious head injuries he sustained on the slopes on New Years Day. Beata C., a mother of four, died a few hours after the high-speed collision.
Local prosecutors have said that he was now being investigated for suspected homicide as a result of negligence, an offence which carries a sentence of up to two years in prison under Austrian law.
Unlike Althaus, the woman was not wearing a safety helmet, and local police and doctors reportedly maintained that Althaus's headwear probably saved his life.
The accident promptly triggered calls for ski helmets to become mandatoryamong Austrian politicians, who cited statistics showing that over 80 percent of head injuries could be prevented by helmets.
In demand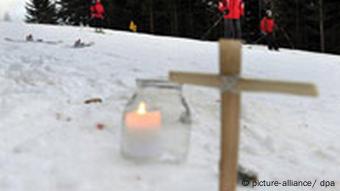 The woman who died was not wearing a helmet
Whether or not a law is passed, the consumers have already taken note:
"Demand for skiing helmets has risen drastically," said Werner Haizmann, President of the Association of German Sports Retailers, estimating that sales are up by nearly 50 percent.
Stores across the country confirm that up to three times as many skiing helmets have been sold in the least few days.
At the Munich sports store Schuster, one sales assistant told AP that sales this year are unprecedently high:
"In the last three years they've become increasingly fashionable but it's getting hysterical," he said.
And while children's helmets have generally been the bestsellers, these days adult models are equally popular. At the high end of the market, a helmet can cost up to 150 euros and tends to be bought by both beginners and more advanced skiers -- not least because new technology helps athletes reach faster speeds than ever before.
Safety first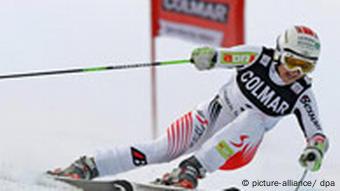 Helmets could become mandatory
And consequently, the designs are getting ever more daring. Today's skiing helmets sport panda patterns or fur covers. Skiers can even hit the slopes with a helmet designed to look like a watermelon, if they dare.
But safety comes first.
Now that a helmet has become an essential part of any skier's equipment, almost every manufacturer includes them in their catalogue. Most have the same basic structure and manufacturers have learned to distinguish the subtle details of their models, such as lightness.
A good helmet can be adjusted to fit the head and will also include a ventilation system: Getting sweaty can mean a skier could freeze.
Some manufacturers have developed adjustable ear protectors for its helmets, which are designed not to block out too much sound, while others have integrated diode lights into its children's models so parents can find their children in the fog.