"There is nothing new," Frank-Walter Steinmeier said on Wednesday evening. Shortly before, the Web site of Der Spiegel newsmagazine published an article saying that Rene Bräunlich and Thomas Nitzschke were in good health and would soon be released from captivity in Iraq.
"I don't comment on press reports," Steinmeier said, according to The Associated Press.
Spiegel-Online said that German sources had received the information from Sheikh Harith al-Dhari, head of the Sunni Muslim Council of Clerics.

Just expressing hope?
A spokesman for the council, Sheikh Mohammed Bashar al-Fajdhi, said al-Dhari had not announced the hostages' imminent release, but had only expressed the hope that they would soon be freed, according to German broadcaster ARD.


Reuters also referred to a "prominent member of the council" who said the sheikh had merely expressed the hope the hostages would be released soon.
A spokesman for al-Dhari said Germany's ambassador to Iraq, Bernd Erbel, had spoken with the sheikh a third time on Wednesday regarding the hostages, Reuters reported. The man said he was unaware of information suggesting the Germans would soon be released.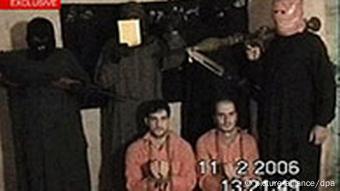 Bräunlich (left) and Nitzschke in the most recent video
Chancellor Angela Merkel said she would comment when she received "reliable information."
The two engineers were kidnapped while working in the northern Iraqi town of Baiji on Jan. 24. In videos messages, the hostage-takers have threatened to kill them if the German government does not cut off all ties to Iran.
The foreign ministry's crisis group has been evaluating the most recent video, broadcast on satellite channel Al Arabiya on Monday, in which the kidnappers spoke of a "last ultimatum."
Germany has not yet been able to get in contact with the hostage-takers, according to officials.