The full name of Nepal's new prime minister is Khadga Prasad Sharma Oli but he goes by K.P. Oli. It is the 66-year-old Communist Party of Nepal (Unified Marxist-Leninist) chairman's second stint in power. He became premier the first time in October 2015, but a power struggle between his party and Pushpa Kamal Dahal's Communist Party of Nepal (Maoist Centre) led to his resignation less than a year later. Now this dispute is forgotten: At the end of February, the two parties decided to settle their differences and combine forces. Later this month, the pair will merge to become the Communist Party of Nepal. This historical event could finally bring some stability to this traumatized country. And it's good news for Beijing.
Wedged between India and China, Nepal is emerging from two turbulent decades. The country, whose 30 million inhabitants consist of several different ethnic groups, was ravaged by a civil war between 1996 and 2006 that cost over 16,000 lives. In 2008, the Hindu monarchy was abolished after 240 years but the democratization process has been slow. It took nine years for a new constitution to be decided upon. Unstable coalition governments and 11 prime ministers have come and gone. The devastating earthquake of 2015 also created further havoc. Unemployment, poor infrastructure and corruption mean that Nepal remains one of the poorest countries in the world — poorer than its neighbors Bhutan, Pakistan and Bangladesh.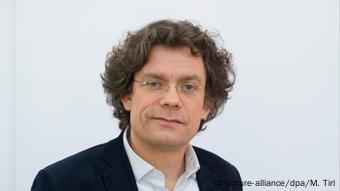 DW's Frank Sieren
Its biggest neighbor, India, has traditionally played a major role in Nepalese politics, because of its geographical and cultural proximity. Delhi supported Nepal in its efforts to become a multi-party democracy and was the first to send aid after the 2015 earthquake. However, the support has never been unconditional and India expects to be informed about what is happening in Nepal regularly. "Their ambassadors behave like viceroys. Aren't we a sovereign nation?" the editor of the Jana Aastha National Weekly tabloid once put it succinctly.
End of a one-sided partnership
Now it seems India may have gone too far. The one-sided strategic partnership has eroded. Nepal is emancipating itself from authorities in Dehli. The fact that K.P. Oli has a clear stance in this regard is one of the reasons for his recent political success. India's unofficial blockade of goods from entering Nepal was a major catalyst in the deterioration of relations. It was a reaction against the 2015 constitution which Delhi claims discriminates against minorities of Indian descent in the southern plains of Nepal.
Read more: India and Nepal rebuild trust amid China's regional ambition
The blockade had severe consequences for Nepal. The landlocked country could no longer be supplied with vital goods such as food, fuel and oil. This blockade took place just before the brutal winter set in and just months after the earthquake. Nepal criticized India's involvement as an aggressive act and a blackmail attempt. K.P. Oli's clear opposition to Delhi was seen to be a symbol of a proud developing country standing up to its mighty neighbor to the south.
Nepal has since intensified its relationship with China so as not to have to sing to India's tune. A month after the blockade, K.P. Oli visited Beijing and made a series of economic agreements with Chinese Prime Minister Li Keqiang, including a deal that gave Nepal access to China's ports and trade routes, lessening India's strategic importance in one stroke. China also approved a loan of $216 million (€176 million) for an international airport in the city of Pokhara, which is popular with tourists.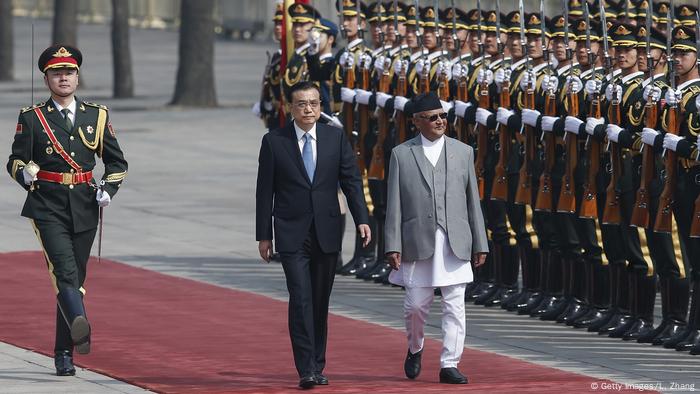 K. P. Oli (right) met with Chinese Prime Minister Li Keqiang in 2016 in Bejing
Chinese investment
China's increased economic interest in Nepal began before the latest diplomatic shift. It became the country's biggest foreign investor back in 2014. Chinese entrepreneurs and business giants, such as the telecom companies Huawei and ZTE or media outlets like China Radio International, are present in many economic areas, and there are also state-financed language schools and experts in hydropower in Nepal. In the second half of 2017, China invested some $80 million in the country, constituting a whopping 60 percent of the total foreign investment in Nepal. India did not invest even half this amount in the same time period. China has also been sending tourists — 100,000 in 2017 alone. This year, the figure is set to rise to 150,000. Nepalese students now prefer to go to China rather than India.
Since May 2017, Nepal has officially supported Beijing's giant "New Silk Road" infrastructure project, against India's will. Beijing would like to integrate India in its project but on the condition that it gets to set the rules. One way of persuading Delhi to get involved is by extending the Qinghai-Tibet railway to Lumbini, on the Indian border, via Kathmandu. If China were to pull this off, India wouldn't be able to show them the cold shoulder for long. It's a clever move by Beijing, especially as Chinese soldiers would also be able to get to the Indian border fast, should that ever be necessary.
Nepal in good position to negotiate
Nepal's decision to turn to Beijing puts it in an ideal negotiating position. Delhi has proven to be more inclined to talk about agreements once considered one-sided. It is also now prepared to allow arms exports from third countries so as not to lose Nepal to China. The idea is also to open the border to both sides more.
It could be too late for India, though. Sino-Nepalese relations are likely to intensify under the new left-wing government in Kathmandu. Delhi will have to accept that China is there to stay but will just have to make sure that Beijing does not become too cocky. Beijing knows this and has suggested trilateral cooperation in the region. So far, India does not seem interested.
What's most important for Nepal is that it doesn't go from the frying pan to the fire. It should not become too financially dependent on China, as Sri Lanka did. As part of a debt relief deal, Beijing was able to extend its strategic presence in the Indian Ocean by taking over a port in Sri Lanka's south.
The challenge will be to find a balance in the thin air of Himalayas — not only for Nepal, but for India and China too.
Frank Sieren has lived in Beijing for over 20 years.