Because of their open support for the pro-Palestinian Boycott, Divestment, Sanctions (BDS) movement, the Scottish band Young Fathers were disinvited — and then reinvited — to perform at the Ruhrtriennale arts and music festival, held in Bochum from August 9 to September 23.
Following the controversy, the Mercury Prize-winning group finally decided to skip the German stop of their tour. The squabble grabbed international attention from the newspapers The New York Times and The Guardian.
In place of the cancelled concert, the festival's organizers held a discussion on Saturday with activists and politicians on the issue that has led to disruptions in different cultural events throughout Germany. The boycott movement counts many prominent UK artists among its supporters.
Read more: Israel boycott impacts Berlin music festival as several acts cancel
Was it wrong to invite Young Fathers?
At the beginning of the debate, the festival's artistic director, Stefanie Carp, recalled how she unwittingly initiated the fiasco. "When I invited Young Fathers, I have to honestly admit that I had never heard the word BDS." A part of the audience laughed at her inexpert confession. They quickly switched to boos when Carp added that the only thing she had done wrong was to disinvite the band in reaction to political pressure.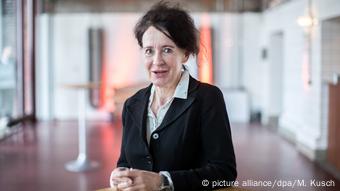 Ruhrtriennale artistic director Stefanie Carp
Severely criticized for her management of the controversy and even accused of anti-Semitism, the artistic director tried to justify her stance. "Can one say that a band supporting a movement criticizing the Israeli government's policies against Palestinians is actually anti-Semitic? And should anyone be allowed to conclude that because I invited this band, I'm also an anti-Semite?" Carp said that this had nothing to do with questioning Israel's right to exist; she rather aims to protect freedom of art.
Germany's historical perspective calls for a different stance
The culture minister of the state of North-Rhine Westphalia, Isabel Pfeiffer-Poensgen, stressed that freedom of art was not being questioned in this debate. "No one wants to influence the festival's program or its artistic decisions. And of course we are free to criticize Israel's policies."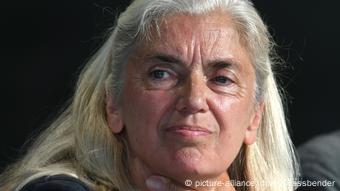 North Rhine-Westphalian Culture Minister Isabel Pfeiffer-Poensgen
Nevertheless, she added, history calls for Germany to adopt a stance that cannot compare to what applies in other countries. It is not right for a publicly funded event to support, even indirectly, an Israel boycott movement that lacks fixed structures and includes radical positions, Pfeiffer-Poensgen said. "There is no BDS-lite!"
Belgian choreographer Hildegard de Vuyst views things differently, pointing out that she and her dance company "support BDS as a non-violent movement." When she tried to justify her stance, a loud and aggressive outcry erupted among the spectators.
Jewish artists among BDS supporters
Remaining calm in the heated atmosphere, New York composer and performer Elliott Sharp showed his support for festival director Stefanie Carp. "I am speaking as a man and an artist, as a Jew and son of a Holocaust survivor." Sharp believes that artists need to act as mediators and transmitters, and that Israel should insure that collaborations with Palestinians are possible.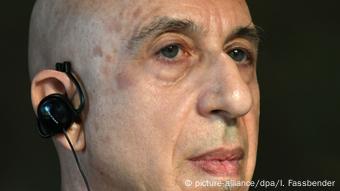 Musician Elliott Sharp
Even if he doesn't agree with every aspect of the BDS movement, Sharp finds it important. "So many artists and musicians are Jews, and many of us believe that Israel itself is contributing to growing anti-Semitism, especially because of its policies against Palestinians. If you compare photos from the Warsaw Ghetto with scenes from the Gaza Strip, they look very similar." In the end, Elliott Sharp's careful words were drowned out by indignant pro-Israeli participants. He nevertheless managed to conclude: "Listening is the solution."
Seated in the audience, Jewish filmmaker and BDS supporter Udi Aloni reacted to the outcry. "Don't tell me how to be a Jew!" he shouted out to the Israel supporters, reminding everyone in the hall that the state of Israel recently passed a controversial law turning Arabs into second-class citizens. "Five million Palestinians have no rights," he claimed. The pro-Israel faction protested further.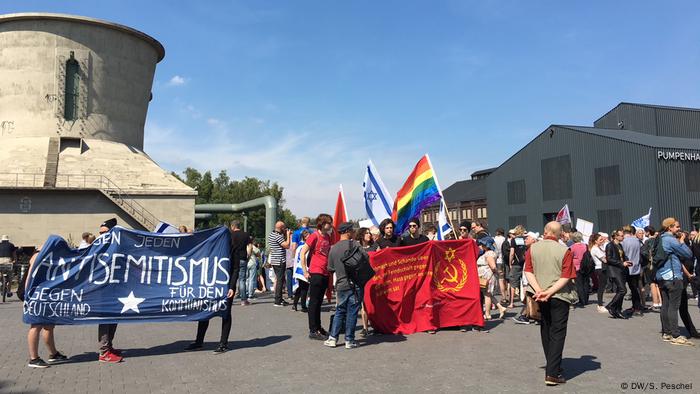 Protests were held ahead of the discussion
Building bridges rather than walls
The highly emotional discussion demonstrated the tension between politics and freedom of the arts. Despite the anger and indignation felt on both sides, the bottom line was that the arts create spaces where bridges should be built instead of fences.
With all of its predictable opponents and even hostilities, the debate managed to achieve that too.