In 2017, filmmaker Oliver Kyr embarked on a 10,000 kilometer trip through Europe. Accompanied by his wife and his three-year old daughter, he traveled in a camper van, equipped with his film camera. The adventurous journey became a search for animal rights activists, a journey which eventually resulted in the production of a documentary. Director Oliver Kyr told DW how "Citizen Animal – A Quest for Animal Rights" was made.
DW: You not only directed the film but also worked on it as a cameraman, sound engineer and screenwriter. Most filmmakers would probably consider it risky to do all these jobs at once. Why did you go for it? Was it a kind of experiment?
Oliver Kyr: My family and I have lived in cars since 2015. We had come to the conclusion that the world into which our daughter was born isn't what we would like it to be. There are too many problems all over, which is why we decided to do our best to help solve these problems. And my wife and I were aware of the fact that we wouldn't be able to do that as long as we continued to live our normal lives in Berlin.
We decided to make a fresh start by moving into a camper van. We sold or donated all our possessions. Almost our entire property.Then we took off to carry out projects that would inspire people to accept the necessary changes in lifestyle to actively help save our planet.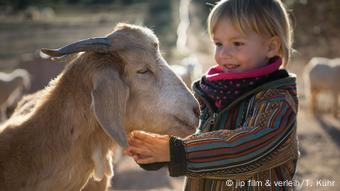 A very young animal rights activist: Oliver Kyr and his wife took their young daughter along on the trip
In January 2017, it was extremely cold in Germany. As we had already bought our camper van, we decided to just do what lots of other people do during this season: we went south, to southern Spain, on a two-month vacation. Along the way, we passed through a village where dogs and cats have been given citizen rights. I said to my wife: "Let's make a short stop there to shoot a little two-minute film for Youtube, and then we'll continue our vacation."
The people we encountered in the village greatly inspired us. We stayed for an entire week to do interviews. And then the inhabitants of Trigueras de Vallos advised us to also visit the Santuario de Animales, an animal sanctuary nearby. They had built an entire rehab facility for a pig there. So we visited the animal hospital and from there, people recommended further places for us to visit. At that point, we were already right in the middle of making a documentary that we hadn't planned.
In Germany, animal protection is often associated with neglected or tortured animals. What kind of experiences did you have on the various stops of your film trip through Europe?
One of our very first stops was at a well-known shelter near Madrid that houses almost 300 dogs. When Carmen, the head of the shelter, told us the stories of these dogs, I immediately felt the immense love that she gave to these animals. Without a single exception, all the people we met during our trip exuded this love for animals.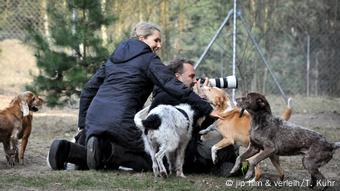 Dogs at an animal sanctuary in Spain enthusiastically welcome the filmmakers
In Germany, there's a tendency to marginalize animal rights activists, some of whom are often even considered "militant." In Spain, by contrast, there's even a mayor who has conceded special rights to animals. Where does this kind of official love for animals come from?
That village has even been dubbed "world capital of animals." Animals weren't only given special animal rights, but official citizen rights. The animals are called vecinos, which means "neighbors" in Spanish. At first, I had the suspicion that perhaps this was just a marketing gag, or an abstract philosophical concept. But neither of those designations would entail judicial consequences.
The mayor explained to us: When someone beats or maltreats a dog, the animal is immediately taken away from him, and then we look for a better home for him. And such actions are legal. The little Spanish village has already had an impact on other villages and even foreign countries, where animal rights activists are trying to follow its example.
What kind of different experiences did you have in the other European countries that you traveled through?
It's often claimed that in southern European countries, animals are treated in a particularly cruel way, and that their natural rights are denied to them. I rather gained the impression that the topic is being discussed there in a highly polarizing fashion. In Spain, there are still death camps where street dogs are simply killed. On the other hand, animal rights activists have gained more ground there. Two of Europe's biggest animal sanctuaries are located in Spain.
On the one hand, animal rights are extremely neglected in Spain, and there's a lot cruelty as you can witness at bullfights and such things. But on the other hand, there are people who are highly committed to animal rights.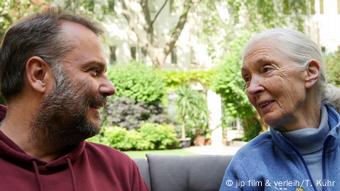 Oliver Kyr also met famous British ethologist Jane Goodall
In Switzerland, to name another example, there is a widespread public awareness about the fact that animals aren't things, that they have feelings and emotions, that they suffer from pain and whatnot.That kind of awareness is not yet prevalent elsewhere, certainly not in Romania where street dogs are killed in an extremely cruel fashion.
For your documentary, you didn't only interview animal rights activists, but also a vegan chef. To what extent has the vegan movement brought about a change in public awareness on the treatment of animals?
I think that what inspires most people who live in a vegan way is their love of animals. And the awareness that we do not have the right to eat them. In this regard, the vegan movement has played an important role in the strengthening of animal rights.
After watching our film, viewers have quite often started a debate. Obviously, the film stirs controversy and viewers start to argue with each other. I appreciate the fact that at least my film has triggered an important debate.
"Citizen Animal – A Quest for Animal Rights" (2018) will hit selected German movie theaters April 26, 2018.