Shimon Peres was one of the founding members of the state of Israel in 1948. Peres was a man who devoted almost his entire life to politics and headed almost all the key ministries in Israel, from defense to finance to foreign affairs. He held the post of prime minister three times, though once only in an interim arrangement.
Despite his stellar career in Israeli politics Shimon Peres was never more popular than when he was president. He never stopped believing that there could be a political solution for the conflict with the Palestinians. This attitude earned him the Nobel Peace Prize.
Yet, in the span between his arrival with his parents in what was then still Palestine in 1934 and his death, Peres had a career that was often hotly debated: Without him, certain settlements in the West Bank would simply not exist, nor would the nuclear reactor Dimona. He was often referred to as the "father of Israeli nuclear weapons".
He also suffered several political failures: He led his Labor party to defeat in three national elections (in 1981, 1988 and 1996). In 2000, he ran for a seven-year term as Israel's president and lost. In the end, however, Peres made a major comeback.
Vision of a democratic, Jewish Israel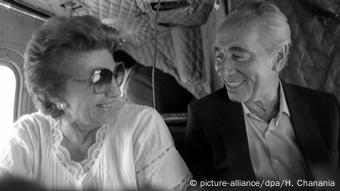 Shimon Peres with his wife Sonya in 1985
Shimon Peres, born Szymon Perski, was destined to become a farmer. He grew up in Wiszniewo, a Jewish village in Poland (now Belarus). When his parents left the village for Palestine they sent their 11-year-old son to the Ben Shemen agricultural school in what is now northeastern Israel.
"I've always had the feeling I grew up in Israel," Peres once said in an interview about his childhood. As a teenager, he was more interested in politics and religion, and decided to become a member of what is now the Labor Party. He always pursued the dream of a democratic, but also Jewish, state.
David Ben-Gurion trusted Peres and sent him abroad to buy arms during the 1948 Arab-Israeli War. This was a strategic task that a 25-year-old would not ordinarily be expected to fulfill. Other people from his generation felt reproach for Peres not fighting on the front for a long time.
In 1956, he helped plan the Suez War, during which Israel invaded Egypt, followed by France and the United Kingdom. In a secret agreement at the beginning of 1957, French Prime Minister Guy Mollet promised to help Peres build a big nuclear reactor in the Negev desert near Dimona. Peres was not allowed to ever talk about the arrangement in public.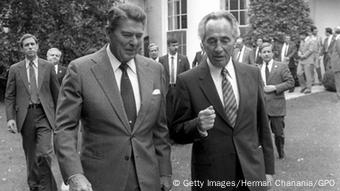 US President Ronald Reagan met with Peres in Washington in 1984
Minister, but never elected premier
In 1970, Peres became Minister of Transportation and Communications, and four years later, under Yitzhak Rabin was appointed defense minister. When Rabin resigned, he gave the post to Peres, who then served as prime minister for several months until fresh elections were held.
It was Peres who approved the construction of the first settlement - Kedumim - in the West Bank. Between 1977 and 1992, Peres was head of the Israeli Labor Party, but never managed to lead his party to victory in national elections. On the contrary: His candidacy in 1977 brought an end to many years of Labor hegemony. The post of prime minister went to the rival Likud party. After the next elections, Peres became prime minister (1984 - 1986) through a rota agreement. He was foreign minister three times between 1986 and 2002.
Shimon Peres was a high-profile critic of Israel's 1982 invasion of Lebanon and strongly supported the view that the Palestinian problem could only be resolved politically and not militarily.
In the 1990s, he turned his attention more and more to the peace process, although his past role in Israel's nuclear reactor acquisition and settlement policy often got in the way. He repeatedly tried to appeal to both Israelis and Palestinians to join the peace process.
"Neither missiles nor bombs can prevent us from bringing peace to the Middle East," was his creed. Peres was the architect of the 1992 Oslo Peace Agreement with the Palestinians and was awarded the Nobel Peace Prize for his efforts along with Yitzhak Rabin and Yasser Arafat. When Rabin was assassinated in 1995, Peres briefly took over as interim prime minister.
From politician to peacemaker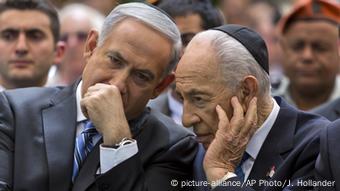 Peres with Israeli Prime Minister Benjamin Netanyahu during the 2013 Remembrance Day ceremony
After losing the election in 1996, Shimon Peres founded the Peres Peace Center in an effort to pursue peace and dialogue between Israel and its Arab neighbors. At the age of 84 he gave up party politics and ran for president. Skeptics were concerned about his age, but Peres was still keen to be president.
However, the outcome of that election turned out to be unexpected: political newcomer Moshe Katzav defeated Peres and became president in 2000. Afterwards, Israeli media claimed that Peres always seems to be leading ahead in opinion polls, but never manages to win an election. When Katzav was forced to resign in 2007 in the wake of rape and sexual harassment charges, the path to the presidency was finally open to Peres.
"I've held almost every elected office. I've had setbacks. But I've also achieved goals that I hope will have contributed to the nation, and to its peace and its security," he said.
And he has: Shimon Peres was a modern president; a man who looked to the West and who wanted to improve the Jewish state. He was the last of the Old Guard, the founders of the State of Israel, who had fought for a homeland against all odds. And Peres filled all his official posts with dignity and wisdom.
To the very last moment, Shimon Peres followed a vision of a new Middle East. Unfortunately, he will no longer get to see what comes of it. Shimon Peres died, aged 93, in Tel Aviv on September 28, 2016 after having suffered a stroke two weeks earlier.