Serbian President Boris Tadic has confirmed that he will not attend a summit in Poland later this week, because Kosovo's President Atifete Jahjaga has also been invited.
During the summit, Tadic would have had his first one-on-one meeting with visiting US President Barack Obama. Kosovo unilaterally declared its independence from Serbia in 2008, quickly gaining recognition from the US and many other countries. Belgrade does not recognize Kosovo's independence, and had asked that the country be represented via the United Nations instead.
"President of Serbia Boris Tadic will not attend the Warsaw summit because Kosovo is represented symmetrically with other participants," a spokeswoman for Tadic's cabinet confirmed.
Romania and Slovakia have also announced that they do not plan to come to the Central and Southeastern European summit because of Kosovo's inclusion. The Polish government, which officially invited the various participants, said it has no intention to change the guest list.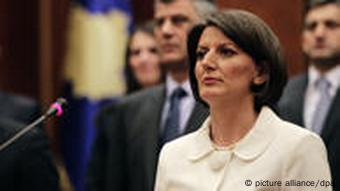 Kosovo's President Atifete Jahjaga will be attending
"Kosovo, so far I'm aware, is currently recognized by 75 countries, including Poland and most EU members. So there's no reason not to invite Kosovo's representative," said Radoslaw Sikorski, Poland's foreign minister.
Sidorski said Serbia - which regularly boycotts events which leaders from Kosovo will also attend - would need to "show it has overcome its past demons" in order to join the European Union.
"We invited the presidents of countries in the region. Because we recognize Kosovo as a country, we have of course invited this country as well," he said.
'Relatively clear situation'
Presidents Traian Baisescu of Romania and Ivan Gasparovic of Slovakia have both called off their trips to Warsaw, meaning Obama is currently due to meet with 17 regional leaders, not the planned 20.
Romania, Slovakia, Spain, Greece and Cyprus are the European Union countries that do not recognize Kosovo as a country - mainly because of implications such an act might have on their own borders.
"We didn't just learn today that some countries have a problem with recognizing Kosovo," said Roman Kuzniar, an adviser to Polish President Bronislaw Komorowski. "Let's wait and see whether the presidents of Romania or Slovakia decide to come after all. Nothing's set in stone yet. Where Serbia's president is concerned, the situation is relatively clear. And we respect this decision."
The summit in Warsaw will mark the end of Obama's four-country European tour, but Polish political scientist and American studies expert Zbigniew Lewicki says any fallout won't really affect the hosts in Warsaw.
"In truth, it's the Americans who organized this summit, they put the guest list together," Lewicki said. "Kosovo was invited at the express request of the US. So the boycott doesn't really hurt us, it's really a matter for US politics."
Prior to the Central and Southeastern European summit, Obama will also meet with leading representatives of Warsaw pact member states Friday evening, including German President Christian Wulff.
Author: Ludger Kazmericzak, Warsaw / msh
Editor: Martin Kuebler