The UN Security Council is scheduled to vote on Tuesday on a draft resolution aimed at ending a military campaign in Yemen by Shiite Houthi rebels who want to take over the country.
The draft resolution, if adopted, would impose an arms embargo on the group's leaders and demand that the rebels withdraw from territory they have already seized. It would also slap a global travel ban and an assets freeze on ex-President Ali Abdullah Saleh and his son, Ahmed, who support the Houthis.
The measure has been put forward by Jordan and Gulf countries as fears rise that Yemen could face a humanitarian crisis in conflict zones.
However, the resolution could be blocked by veto-wielding Russia, which has close ties with Iran, widely thought to be supporting the Houthis.
Moscow has insisted on imposing an arms embargo on all parties involved in the conflict, and not just the Houthis and their supporters.
Observers say the conflict in Yemen is growing increasingly into a proxy war between Shiite-dominated Iran and Sunni Saudi Arabia, which since March 26 has led an air campaign on Houthi positions in the country.
'Horror and destruction'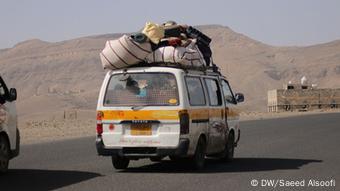 Many civilians have fled amid the Saudi-led air strikes
Yemeni President Abed Rabbo Mansour Hadi, the country's UN-recognized leader, has reiterated his accusations that Tehran is fueling the conflict.
In an op-ed in the New York Times, he wrote that Iran's "hunger for power" was responsible for the fighting and promoting a "campaign of horror and destruction" by the rebels. Hadi is currently living in exile in Saudi Arabia,
Iran has always denied the allegations, with its supreme leader Ayatollah Al Khamenei condemning the Saudi-led raids on Yemen as "criminal."
The Houthis, who took over the capital, Sanaa, last year, advanced on the key port city of Aden last month, where the humanitarian situation is reported to be rapidly deteriorating as aid groups struggle to deliver aid to trapped citizens.
More than 600 people have died and 2,000 been wounded in the fighting, according to UN figures.
tj/jil (AFP, AP)