As German national team head coach Joachim Löw put his charges through their paces at the final training before Tuesday evening's crucial game at the Parc des Princes in Paris, he may well have had two things going through his mind: First, will it ever stop raining here? And second, how can we unlock a determined Northern Irish defense?
It has almost seemed like it has never stopped raining since the tournament began here in France a week and a half ago, keeping the groundskeepers on their toes as they struggle to keep the various ptiches up to a standard to match the level of talent running across them. As Germany went to train at the Parc des Princes 24 hours before the game, the playing surface still looked in pretty good shape. Should it deteriorate, this could play a little into the hands of the spirited, but less talented Northern Irish team.
Speaking at the final press conference, defender Mats Hummels said Germany weren't too worried about this though, saying that if the pitch worsens, "we will have to adjust to the conditions."
Much maligned offense
In terms of Germany's offense, which has been much maligned in the media since their scoreless draw against Poland, the answers from the German camp have been distinctly vague. In his last appearance before the reporters at Germany's base camp in Evian, coach Joachim Löw was his cagey old self, revealing only that he was "thinking about various possibilities."
On Tuesday, his assistant, Thomas Schneider, who appeared in Löw's place at the press conference, also revealed precious little. Asked whether playing Thomas Müller as a lone striker against the Northern Irish was an option, Schneider conceded that this was "one option that we have considered."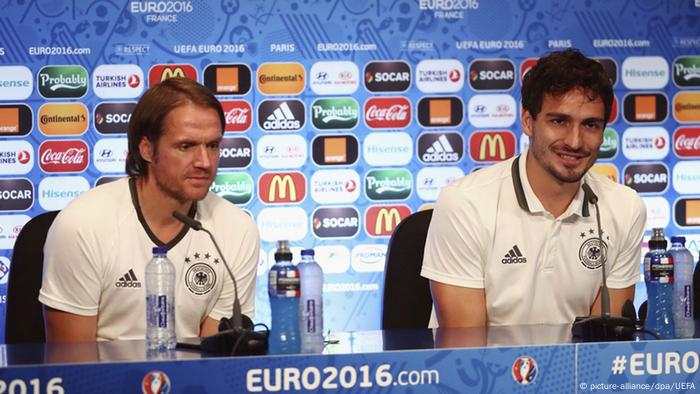 Assistant coach Thomas Schneider and Mats Hummels kept their cards close to their chests a day before the game
Both Müller and Mario Götze came in for particular criticism in the German press following the scoreless draw, and speaking to reporters in Evian on Sunday, Müller conceded that he would have liked to have seen more "penetration" of the Polish defense, saying that Germany's attackers needed to "remain hungry" and get into positions "where it hurts."
'Defense wins tournaments'
For his part, Mats Hummels said he reckoned Germany needed to be a little less risk-averse in their attack against Northern Ireland, perhaps taking a few more shots from distance, and being more prepared to take on defenders one-on-one. His formula for success against a team that is bound to defend from the start is to go at them early.
"We know they could get the confidence to beat us if we let them," he said. "We have to try to be the better team from the beginning so they don't start believing they can win it."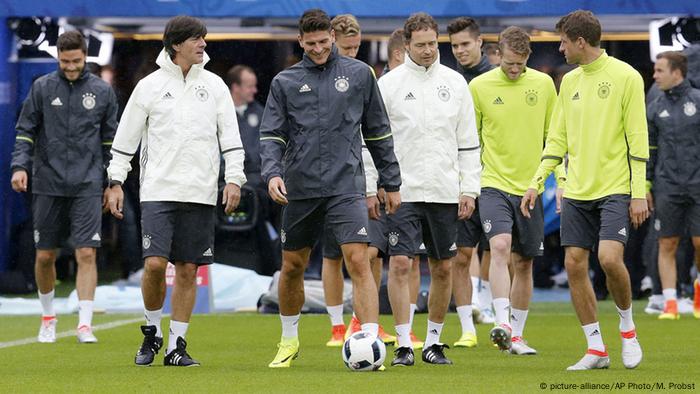 Löw said 'flat, fast' passing was the way to break down Northern Ireland, but he also has Mario Gomez in his back pocket
At the same time though, Bayern Munich's latest star recruit from rivals Dortmund stressed the need for Germany, who have not conceded thus far at Euro 2016, to go forward without exposing their own goal to attack.
"Defensive stability is the top priority, that's the most important thing when it comes to winning tournaments," Hummels said.
Determined to finish top of group
The only thing that could see Germany throw caution (somewhat) to the wind, it seems, would be if Poland were to take a big lead against Ukraine in their game in Marseille. Germany have made it known that they want to win the group and they go into the match level on points with Poland, with a one-goal advantage in terms of goal differential. Assuming Germany were also leading against Northern Ireland, but had seen Poland overturn the goal differential, Löw's camp have made it known that they can be expected to make whatever tactical changes deemed necessary, to reclaim the advantage - and win the group.