Rescuers were scrambling on Monday morning to find those still missing in southern Japan following two devastating earthquakes. At least 42 people were killed on the island of Kyushu, while buildings and homes were left in ruins or submerged in mud.
"There are individuals still missing," Prime Minister Shinzo Abe told the press. "We will continue to give our all for search and rescue activities."
Abe added that the US military had sent troops and aircraft to assist the 30,000 Japanese rescue workers looking for survivors. The mission is a race against the clock, as hundreds of aftershocks continue to cause landslides that threaten to bury those who remain unaccounted for. Isolated villages on the country's southwestern-most main island have been cut off by severely damaged roads.
More than 110,000 have been evacuated from the area after Saturday's 7.0 magnitude tremor, which hit in a part of Japan unused to such strong quakes.
Food in short supply
The most immediate concern for survivors was food, as most major roads were impassable due to the landslides.
"Yesterday, I ate just one piece of tofu and a rice ball. That's all," said the mayor of one of the areas affected. "What we're most worried about now is food. There's no electricity or water, either."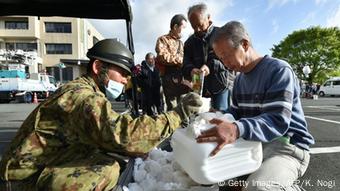 After the disaster at the Fukushima nuclear reactor following a powerful 2011 earthquake, the government was swift to monitor the situation at Kyushu's only operating atomic power station, Sendai. The Nuclear Regulation Authority said on Monday that there were no safety issues at the plant.
es/jil (AFP, Reuters)