The poor showing for Schröder's Social Democrats (SPD) in Saarland continued a string of defeats in recent state elections. The party has suffered as the government in Berlin has pushed its painful labor market reforms and social cuts.

Amid low turnout, voters left the SPD smarting by slashing the party's score by one third from 44.4 percent in the last state election in 1999 to a dismal 30.8 percent, according to provisional results. It was the worst result for the SPD in Saarland since 1960.

The conservative Christian Democratic Union (CDU) took advantage of weeks of protests that had seen tens of thousands of people rally against Schröder's labor market reforms to be returned to power with 47.5 percent. The CDU score was only two percentage points better than they tallied five years ago but will result in an absolute majority of 27 seats in the 51-seat state assembly.

"Our goal was to achieve an absolute majority," CDU state premier Peter Müller told ZDF public television. "This is a really big day for the CDU, this is a great result."

SPD stronghold a thing of the past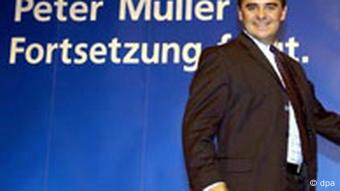 Müller said he was more than satisfied that the CDU managed to strengthen its hold on the region while retaining its absolute majority. "The Saarland used to be an SPD stronghold that was impregnable for many years. That is why not only defending but even enlarging the CDU's absolute majority makes us all very proud and marks a proud day for the party in Germany as a whole."

SPD state leader Heiko Maas summed up the result as a "clear and bitter defeat" and said that debate surrounding Oskar Lafontaine, a former Schröder ally turned opponent, had contributed to the party's bad showing. "Oskar Lafontaine must decide whether he wants in the future to engage himself inside or the outside the SPD," Maas said.

Lafontaine, who hails from the former mining region bordering France and Luxembourg, is from the SPD left and has threatened to join a breakaway party. He has also campaigned with anti-reform protestors in the streets of eastern Germany where unemployment in some places is double that in the richer west. The reform debate has mobilized great resistance in the east and has spread its discontent across the country.

SPD stick with reforms despite defeat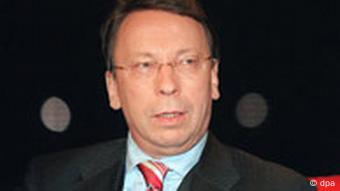 Klaus-Uwe Benneter
While accepting that opposition to the reforms would play a leading role in the state elections, the SPD remains firm on the policy. Social Democrats party manager Klaus-Uwe Benneter (photo) claims there is no alternative to the reform program. "We must keep a steady course with regard to our reform policy. There are after all strong indications that people are beginning to understand what our intentions are. So if we remain steadfast now, we will benefit in the end."

However, everyone except the SPD seemed to be benefiting from the anger against the government's program. The Greens, the junior partner in the federal coalition, also benefited picking up 5.6 percent to return to the state assembly. They will be joined there by the liberal Free Democrats, who also passed the five percent barrier needed to win seats in parliament with 5.2 percent.

Falling short of winning seats was the extreme-right National Democratic Party (NPD), with 4.2 percent of the vote according to exit polls.

Turnout for the election was 55.5 percent, down from nearly 69 percent in 1999.
Unemployment a factor in protest vote
Germans usually send warnings to the federal government during elections in the 16 states, and Saarland was the site of the first of four polls this month likely to turn protest voices into votes against Schröder.

An opinion poll by ZDF showed that a huge majority of voters in Saarland were concerned about high unemployment. Schröder's harsh new labor market reforms, to be introduced on January 1, were also a factor.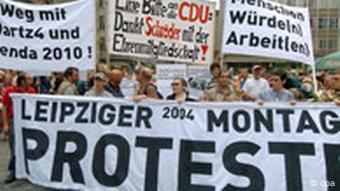 While the federal government made some minor concessions after the so-called Monday demonstrations began in earnest, particularly in eastern Germany, Schröder has refused to cede any more ground. In the east, that stubbornness has translated into new and worrying support for extreme left and right-wing parties.

Fortunately for Schröder, the concrete changes wrought by Sunday's poll will be negligible. Saarland has only three of 69 seats in the Bundesrat upper house of parliament, where states are represented based on their populations.

Merkel plots further victories
But the psychological impact of this hefty defeat could be tremendous, something the opposition is well aware of. CDU chief Angela Merkel, who is widely tipped to become Schröder's conservative challenger in general elections in 2006, is already setting her sights on her next ambitious goals.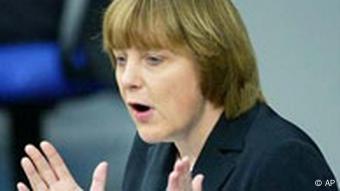 Angela Merkel
"This is a signal that our clear course including support for reforms wherever they are needed and courageous action is acknowledged by the electorate," Merkel said. "I believe that in the next elections in Saxony we will also be able to defend our absolute majority and that in Brandenburg we will catch up with the Social Democrats there."


More elections loom ominously for Schröder
The eastern states of Brandenburg and Saxony hold elections on September 19, where voters are likely to turn against the SPD in numbers and toward the former communist Party of Democratic Socialism (PDS). A week later, North Rhine-Westphalia, Germany's most populous state and a long-time SPD bastion, will hold local elections.