At a party conference in Berlin, the chancellor will be trying to boost the confidence of his fellow Social Democrats and precipitate what he hopes will be a come-from-behind victory.
With just about two weeks to go until the election the Social Democrats are lagging hopelessly behind the conservatives led by Angela Merkel. But Schröder, who has a history of tough political struggles and unexpected wins, is determined to sway public opinion at the last minute.
These days Schröder is still able to draw the masses to town squares and halls, in a bid to dispel images of him as a lame duck chancellor on his farewell tour of Germany.
But the political wares he's hawking -- like the social renewal of Germany that he wants to continue or Germany's rising international importance which he wants to consolidate -- appear to have lost their shine with the population at large.
With 18 days to go before the general election, opinion polls are currently giving a conservative-liberal alliance an absolute majority and a 12 point lead over the chancellor's SPD and their Green party allies. Yet Gerhard Schröder's personal and political history has always been one of tough fights and surprise victories.
A man accustomed to fighting adversity
Born in April 1944 in the West German town of Mossenberg, his childhood was marked by postwar destitution of which the Schröder family had more than a fair share.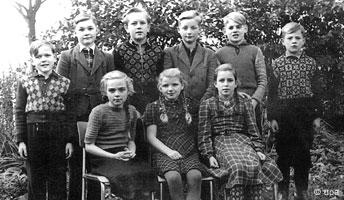 Gerhard Schröder, far left, the boy who grew to be chancellor.
"I had a happy childhood although it was mostly marked by austere circumstances and little access to education," he says. "I missed that badly but my mother never had money for that. So I've had to elbow my way up, as it were."
Schröder's father died in World War II, leaving behind his wife, who was a cleaning woman, and five siblings. At 19 Schröder joined the Social Democrats and worked at a building site to fund night school classes through which he earned his high school diploma at the age of 22.
Schröder qualified as a lawyer before becoming leader of the Social Democrat's youth wing in 1978. His star ascended fully in 1990 when he became premier of the state of Lower Saxony at the second attempt. His campaign for the chancellorship in 1998 sent a gush of fresh air through Germany, carrying the promise of an end to the inertia that marked the twilight of 16 years of conservative rule.
Unseating Kohl the political highpoint
On Sept. 27, 1998 Schröder reached the peak of his political career. He unseated conservative chancellor Helmut Kohl by winning 41 percent of the vote and by forming an alliance with Joschka Fischer's Green party.
Gerhard Schröder hugs Oskar Lafontaine as the results come in for the 1998 general elction.
Schröder became the first postwar German leader to back the country's economic muscle with military might. He made Germany participate in the war in Kosovo in 1999 and in Afghanistan three years later.
On the domestic front, however, he lost the fight against mass unemployment and as a consequence barely managed to cling on to the chancellorship in the 2002 election. Observers believe he only won by opposing US President George W. Bush on the Iraq war and by refusing to commit German troops.
Schröder criticized for unemployment and reforms
This year his campaign returns to a country struggling with a record unemployment -- despite news on Wednesday that the jobless figures had dropped to 4.728 million in raw, or unadjusted, terms in August from 4.77 million in July.
Schröder also faces a population disillusioned with a series of painful labor market and welfare reforms. But against all the odds the chancellor is determined to win.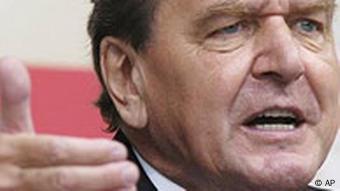 "This is not about bidding farewell," he says. "This is about fighting to become the strongest party again. Certainly the circumstances have been more favorable in the past, but that only fires me on because I'm used to fighting."
Next Sunday ,Schröder faces his conservative challenger Angela Merkel in a head-to-head television debate. He's expected to hold an advantage there as the more charismatic and experienced screen performer. But it's doubtful whether his personality alone will rescue his red-green government.
The winds of change in Germany seem strong enough to sweep Angela Merkel into power as the first female chancellor in German history.