If you picture him with a pipe, a moustache and a black hat, it's not hard to imagine new Schalke coach Roberto Di Matteo as Lee van Cleef in "For a Few Dollars More" or "The Good, The Bad and the Ugly". And indeed the Italian-Swiss coach cut a mighty cool figure on the touchline in Gelsenkirchen, as the Royal Blues collected a never-in-doubt bounty against Hertha Berlin on Saturday.
Matteo, best known for guiding Chelsea to an unlikely Champions League title three seasons ago, brings some glamour back to Schalke, who were previously led by the competent but non-descript Jens Keller. Schalke sporting director Horst Heldt took some flak for firing his friend Keller after a mediocre start to the season.
Now his decision looks pretty good. The first reviews are in, and they're glowing.
"Coach Di Matteo has stabilized Schalke's defense, and he's got the right stuff to get more out of the team," raved news magazine Der Spiegel.
"Schalke's new coach is putting together a Royal Blue Chelsea," wrote the tabloid Bild newspaper, never one to get ahead of itself. "The football wasn't intoxicating, but Schalke played cleverly just like in his Champions League triumph."
No one sane is betting on Schalke hosting club football's premier prize this season. But if Di Matteo's first week in charge is anything to go by, he gotten a lot right - both in terms of tactics and team culture.
Dealing with the passion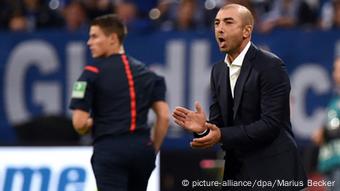 Schalke's maiden match under di Matteo was a success
At his first press conference after taking the reins, Di Matteo praised Schalke's attacking potential and identified "several defensive problems" as the things he would try to improve in the short term.
Those improvements were on evidence on Saturday. The Royal Blues shut down the middle, forcing Hertha to thump in high crosses, easily dealt with by the interior defense. Schalke was hardly scintillating going forward but created the better chances and converted a pair for a comfortable win.
Di Matteo didn't make too much out of the result, which he celebrated but admitted was not "super spectacular" after the match. That sort of level-headedness should serve him well in the hothouse environment in and around Gelsenkirchen. On the other hand, di Matteo has said he doesn't intend to try to remake the Royal Blues in his image.
"In the past 100 years no on has succeeded in doing that," Di Matteo said in the run-up to the Hertha match. "You can't tame this atmosphere. You can only deal with it. Schalke is a very passionate club."
Di Matteo has sounded the right mixed note of respect and distance. He's not pretending to be one of the Royal Blue faithful, but he has expressed his appreciation of Schalke's fanatic supporters, and that has allowed him to come across as quite genuine. For the moment, all is good - and nothing bad or ugly - in the Gelsenkirchen universe.