Christian Adelius: "In Indonesia, you eat the food lukewarm."
When you meet Christian Adelius, who was born in Indonesia's capital of Jakarta, you quickly get the impression that for him, good food is everything. He has always loved to cook and eat.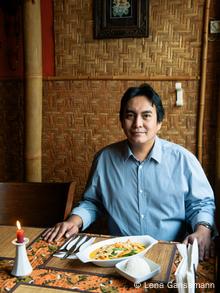 Christian Adelius
He spends his free time exploring his neighborhood restaurants, and at least once a year, he flies back to Indonesia for a visit. There, the engineering economist goes on a journey of discovery to find new recipes and ideas for dishes that he can serve his guests in Germany. Since 2012, Christian Adelius has run Tuk Tuk, Berlin's oldest Indonesian restaurant, and for a long time, the city's only Indonesian establishment.
Tuk Tuk in Berlin's Schöneberg district
Tuk Tuk opened up in 1984 in a small side street in Berlin's Schöneberg district. Christian Adelius took it over in 2012, when the former owners retired, and continues to run the successful business.


Sayur Lodeh (Vegetables in lodeh sauce)
Serves 4
Ingredients:
4 onions
4 garlic cloves
2 t sambal oelek hot sauce
4 bay leaves
1 piece of galangal (Thai ginger), around 1 cm in length
1 l coconut milk
200 g bamboo shoots
100 g needle beans
100 g carrots
2 bell peppers
200 g tofu
50 ml oil
1 pinch of sugar
Preparation:
Peel onions, garlic, and galangal, and dice. Sauté in a pan with oil at low heat until ingredients turn golden brown. Turn heat to high and add coconut milk, then stir in sambal oelek, salt, and sugar. Slice needle beans, carrots, tofu, and bell peppers in pieces, and add to the pan after five minutes. Simmer for an additional ten minutes. Serve with rice.
Restaurant Tuk Tuk
Großgörschenstraße 2
10827 Berlin

Tel.: +49 30 7811588