The Philippines' environment minister on Tuesday ordered the cancellation of 75 mining contracts, two weeks after ordering the closure of half the country's operating mines for causing environmental damage.
A long-time environmentalist, Regina Lopez ordered the halt of so-called mineral production sharing agreements as part of a stepped-up campaign to stop damage to watersheds and coastal waters and farmlands.
"You kill the watershed, you kill life. You kill the river, you kill agriculture, you kill the drinking water," Lopez told a media briefing, adding the country did not want projects that are "raping" us.
Tampakan project stalled
Among the projects impacted by the order is the $5.9 billion (5.5 billion euros) Tampakan copper-gold project on Mindanao island, which would be one of the largest foreign investments in the country. The project has stalled since the province where it is located banned open-pit mining in 2010.
On February 2, Lopez ordered the closure of 23 of the Philippines' 41 mines and the suspension of another five in a move that caused an outcry among miners and the industry in the world's biggest nickel ore supplier. The mine closures impact about half the island nation's nickel ore output.
The government says it can survive without mining, which accounts for one percent of the economy, but the closures have already pushed up nickel prices.
Legal action and opposition
Miners and the industry, including the country's top nickel ore producer, Nickel Asia Corp, have vowed to take legal action.
The decision to close mines and cancel contracts comes after a months-long audit of the mines, which only suggested suspensions and fines.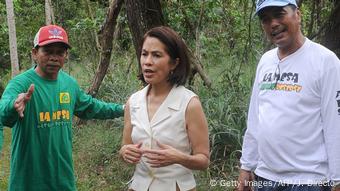 Lopez has been a longtime environmental campaigner.
President Rodrigo Duterte has stood by his environment minister, one of a few cabinet members who has yet to be confirmed by Congress.
Over the weekend, Duterte said he had observed first hand the destruction mining had caused on the environment and pledged to provide government assistance and support to miners impacted by the order.
The campaign to close mines comes as a peace process with Communist rebels to end a decades-long insurgency has stalled after the government and the militants called off a ceasefire over the weekend.
The rebels have demanded a halt to foreign mining and regularly target mining companies.
cw/jm (Reuters)