United Nations chief Ban Ki-moon on Saturday urged Southeast Asian nations to give "top priority" to rescuing migrants at sea as the region attempts to come to grips with a growing wave of people trying to escape persecution and poverty at home by fleeing on boats.
Although Ban said he hoped countries in the region would tackle the causes behind the current exodus at an upcoming conference in Thailand, he stressed that the immediate task was to save human lives.
"When people are drifting on the sea, how we can search and rescue them and provide lifesaving humanitarian assistance, that is a top priority at this time," he told reporters during a visit to Vietnam.
He also called on nations that have taken in migrants "not to send them back to a dangerous circumstance or situation," and to address "the root causes of this issue, why people are fleeing."
Growing humanitarian crisis
Indonesia, Malaysia and Thailand have seen more than 3,600 migrants land ashore since May 10, but thousands more are thought to be still in danger at sea, with the UN warning that time is running out.
About half of the migrants come from Bangladesh, while many of the others are minority Rohingya Muslims from Myanmar, who are fleeing widespread ethnic violence, discrimination and persecution in their home state of Rakhine.
Last week, Malaysia and Indonesia said they would accommodate the migrants for up to one year. The United States has said it would settle some of them permanently.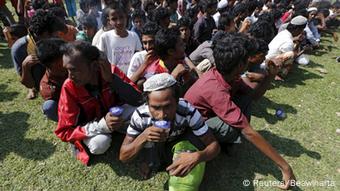 Indonesia is giving temporary shelter to the migrants
The humanitarian crisis has been exacerbated by a Thai crackdown on human trafficking in early May, with captains abandoning boats packed with migrants for fear of arrest.
The approach of the monsoon season has also raised concerns for the safety of migrants still stuck at sea.
Myanmar on board
Myanmar has agreed to take part in next Friday's meeting in Bangkok after initially hesitating to accept the invitation.
"We are ready to cooperate with other governments to resolve the ongoing problems through constructive engagement and on humanitarian grounds, " the director of the presidential office, Zaw Htay, said, noting that the invitation had not given Myanmar the sole blame for the crisis or mentioned the word Rohingya.
Zaw Htay also said 208 men found in two fishing trawlers by Myanmar's navy on Friday off the coast of Rahkine state were identified as Bangladeshi, and would be sent back to the neighboring country.
Myanmar's government says the Rohingya are illegal migrants from Bangladesh, although many have lived in Myanmar for generations. Bangladesh, in its turn, does not recognize them as its citizens.
Hundreds of Rohingya in Myanmar have been killed in attacks by Buddhist extremists, and another 140,000 have been driven from their homes.
The situation has caused more than 100,000 to undertake perilous boat voyages in a bid to escape persecution.
tj/sms (AP, AFP)