Saudi King Abdullah was carried to an unmarked grave in a Riyadh cemetery on Friday after a funeral prayer at the Imam Turki bin Abdullah mosque in the capital.
The king's body, wrapped in a simple white shroud, was borne through the crowds at the mosque on a simple litter by men wearing traditional red-and-white checked shemagh head gear following the mid-afternoon Asr prayers.
The funeral ceremony for the king, who was one of the richest men in history, was held in accordance with the ascetic tradition of the Saudi state school of Wahhabi Sunni Islam, which considers ostentatious displays of grief or mourning to be tantamount to idolatry. Flags around the kingdom all flew at full staff, and government offices will open as usual on Sunday after the Middle East's normal Friday-Saturday weekend.
Turkish President Recep Tayyip Erdogan and Pakistani Prime Minister Nawaz Sharif joined Gulf leaders, including Bahrain's King Hamad bin Isa al-Khalifa, the Emir of Qatar Tamim Bin Hamad al-Thani and Kuwait's Emir Sheikh Sabah al-Ahmad al-Sabah, for the funeral prayer.
Abdullah officially became king in 2005, but had unofficially held the position since 1996, when his brother Fahd became incapacitated following a stroke in 1995.
Economic challenge
Abdullah has been succeeded by his brother, 79-year-old Salman bin Abdul Aziz, who will face the biggest economic challenge confronting the country since the global financial crisis in 2009.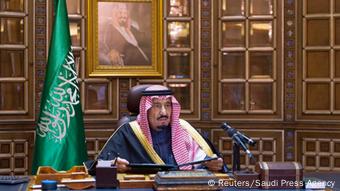 Salman has appointed his son to take his place as defense minister
The kingdom, the world's top oil exporter, which relies on hydrocarbons for 90 percent of its state revenues, is seeing that income being drastically reduced by plummeting oil prices in recent months. The government has projected a record $38.7 billion (34.4 billion euro) shortfall for 2015, although Saudi Arabia is broadly believed to be the main agent in increasing global supply and driving the prices down.
Reacting, at least in part, to a boom in shale oil production in the United States, traditional oil producing OPEC members have responded by flooding the market in a bid to price out this new source of competition, whose extraction costs tend to be higher.
Oil prices rallied slightly after Abdullah's death, but experts said this resulted from uncertainty about the oil stategy of the new monarch.
"As we are uncertain of how the new king would react to the current supply glut, we believe that the market is pricing in this uncertainty, causing prices to spke," said Daniel Ang, an investment analyst with broker Phillip Futures.
"This premium should wear off once the market is clear about the new king's view on the oil situation," he added.
tj/msh (AFP, Reuters)