The new sculpture in the town of Radolfzell in southern Germany is around 13 meters (42.65 feet) tall and shows the Greek goddess Europa covered in political bigwigs, many of them German. The majority of them are fighting for position on Europa's bare breasts, a battle that a figure resembling IMF Managing Director Christine Lagarde appears to be winning on Europa's left hand side.
Perhaps the two key names in German politics during the so-called eurozone debt crisis, Chancellor Angela Merkel and Finance Minister Wolfgang Schäuble, both sit isolated at either end of Europa. Schäuble is clambering to the top of Europa's helmet, though his eyes are fixed on the crowd squabbling for position around her midriff.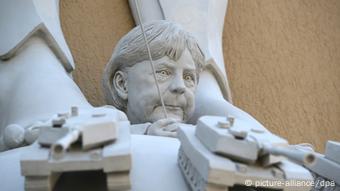 Merkel orchestrates a battle of her own in the sculpture
Merkel, meanwhile, sits alone at Europa's feet, a controller for a computer game console in both hands and tanks all around her. In an interview with the regional Südkurier daily newspaper, sculptor Peter Lenk referred to the chancellor as the "export chariot," an apparent reference to a string of contentious German weapons' exports deals in recent years.
Well above Europa's head, other figures are parachuting down towards her to join the fray in the scene called "Kampf um Europa" in the original German.
A figure resembling the Social Democrat challenger to Merkel in September's elections, Peer Steinbrück, is one of these characters yet to even join the action. He sits not just above Europa, but off target to her left; and instead of a working parachute, he appears to be sitting on a magic carpet or some kind of rug.
European Council President Herman Van Rompuy and German Constitutional Court President Andreas Vosskuhle are among the other prominent figures who seem to be depicted.
"Who thinks of Greek mythology anymore when they're talking about Europe?" Lenk asked when unveiling his latest work. "Bankrupt Greeks, a country in debt, billions in loans, those are today's key words. Money, money, money has supplanted the gods."
A continent's mythical mother
Europa is a Greek goddess who was abducted and ravished by Zeus, king of the gods. Zeus had disguised himself as a white bull to trick the buxom daughter of a farmer, who was thought herself to represent a cow, to approach him and ultimately ride him. He ferried her away across the sea to Crete. A white bull is in the sculpture at the very bottom right, isolated from all with its back to the goddess, as if the notoriously impatient ruler of Mount Olympus has no taste for such stiff competition.
The EU, which generally steers clear of real world imagery in a bid to avoid perceived favoritism, has leaned heavily on the image of Europa. The bloc's website, europa.eu, bears her name, and all of the new euro banknotes - starting with the second-generation 5-euro note introduced earlier this year - will carry a hologram of her face.
The German for "Europe" is "Europa," meaning the goddess' name remains an exact rendition of the continent's modern moniker, not just its root.
msh/jm (dpa)