Ben, a young German man, meets Sreykeo at a disco in Pnomh Penh. Sreykeo means "girl made of glass" and the name suits her, because she really does seem fragile, even if this is bad for her image.
"I'm a business woman," she tells him in the film and asks if that's a problem for him. "No", he answers. "And what about the fact that I have had other men," she continues. "No", he answers again. "Now you've got me."
Thus, their story develops. Ben gets to know the non-touristy side of Cambodia – the tiny homes, the narrow lanes, life on the streets and in rural areas.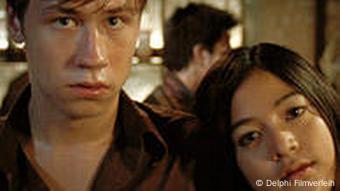 David Kross and Apinya Sakuljaroensuk have received praise for their restrained acting
A romantic struggle for survival
He also goes to the doctor with Sreykeo – because of her chronic cough. He asks if it always takes so long at the doctor and is shocked to hear she has never been to the doctor before.
What's even more shocking is the diagnosis: The doctor tells Sreykeo she is HIV-positive.
All of a sudden, the romance becomes a struggle for survival.
A modern love story
"Same Same but Different" is based on Benjamin Prüfer's book about his true story but director Detlev Buck says he just wanted to tell a modern love story. "The story is just an example of those who are in the world today," he says.
"Those who are taking part of a life at a global level. Young people who take a year out after school, go travelling. So many people have said it reminds them of their life, a love story in Turkey for instance or wherever…"
The film offers a sensitive portrayal of Cambodian life. Like the director, who films the slums and daily life, Ben has no prejudices. He wants to help Sreykeo and her family. He manages to get hold of medicine for her, supports her relatives.
Pros and contras
He travels between Germany and Cambodia and weighs up the pros and contras of the relationship. He has no money left, he thinks. She lives in Asia, he lives in Europe. It's difficult to have a conversation with her. She's an ex-prostitute who will probably die of AIDS. But he loves her, life with her is never boring, and the sex is great. He is torn.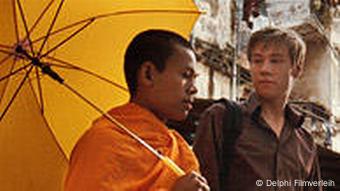 Ben becomes acquainted with everyday Cambodian life, culture and traditions
Sreykeo is also torn. She loves Ben but also wonders whether she can trust him completely especially when he rejects her proposal of marriage.
"Same Same but Different" is a film about love, the subject of a thousand films, but it is different. David Kross is wonderfully reserved as Ben. Apinya Sakuljaroensuk as Sreykeo accepts her fate without complaining.
Although death lurks in the background, this is a wonderful film about an unusual love story.
Author: Bernd Sobolla / act
Editor: Disha Uppal