A court in Madrid on Monday ordered that the remains of surrealist painter Salvador Dali be exhumed over a woman's claim that she is the daughter of the world-famous artist.
The court said the exhumation aimed "to get samples of his remains to determine whether he is the biological father of a woman from Girona (in northeastern Spain) who filed a claim to be recognised as the daughter of the artist."
Read more - Dali, Breton, Magritte: The attraction of Surrrealism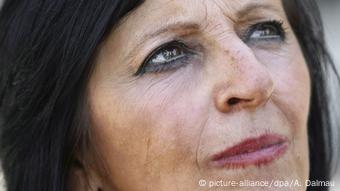 Abel says her mother and Dali embarked on a clandestine love affair
It added, "The DNA study of the painter's corpse is necessary due to the lack of other biological or personal remains with which to perform the comparative study."
The court said the decision could be appealed.
Dali is buried in Figueras, a city in the northeast corner of Spain, less than 25 km (15 miles) from the French border. He was born there in 1904 and died in January 1989 of heart failure.
Abel, who works as a tarot card reader, has been claiming she is Dali's daughter since 2007. She says her mother worked in Dali's household in the 1950s, and that the two had a secret affair. At the time, Dali would have been married to his muse, Gala.
Read more - The Murals of Joan Miró
If a paternal link were proved, Abel could be entitled to a portion of Dali's property and rights to his artwork.
His life was marked by the genius of his work and his personal eccentricities and extravagances.
bik/rc (AFP, EFE)