People from all over the world come to Salt Lake City, Utha, to research their family trees. The Church of Jesus Christ of Latter-day Saints, better known as the Mormon Church, has compiled the most comprehensive collection of genealogy source material in the world.
The Mormons believe that their families enjoy eternal life in a perpetual genealogical circle. That's why they are eager to trace their ancestors from generation to generation.
The Family History Library was founded in 1894 to collect and archive genealogical material, and to aid members of the Mormon Church in tracing their family histories. Today the Library contains more than two million rolls of microfilmed records, almost 750,000 microfiche, 300,000 books and 4,500 periodicals.
Yet, it is not only Mormons who want to know more about their family history. Many Americans of German descent use the Family History Library to find out more about their ancestors. Some 2500 users come here every day. One of them is Ken McCrea.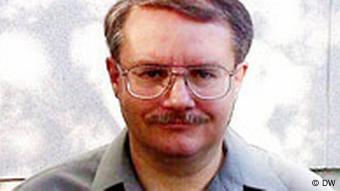 Dedicated to tracing his ancestors: Ken McCrea
Ken is very much into tracing his ancestors."It's kind of an obsession. It's sort of like the thrill of the hunt in a way you're really into the process of trying to find this stuff."
Ken has been exploring his family history for a couple of years now. He has been able to find out something about relatives in England and Germany back to the 15th century.
He even fancies himself being related to Charlemagne and the Mountbatten-Windsor people, better known as the British royal family. Yet he knows he is so far removed in the lineage that there is no way he could ever claim a right to the British throne.
It's just sort of an interesting fact. It doesn't mean anything in general. It doesn't make me different. It's just interesting to know that some of your ancestors were people that other people would have heard of."
Ken has traveled to Salt Lake City all the way from his home state Pennsylvania. He has not done much sightseeing, though. Every morning, when the archives open at 7.30 a.m., Ken descends down into the vaults and reading rooms. He only resurfaces around closing time at 10 p.m. Ken is screening as much material as he can.
The archives hold church records, registers of birth, home value & ownership registers and military papers from all over the world. Most of the documents are of European origin.
During the day down in the catacombs of long-forgotten times Ken can make use of more than 80 computers, 600 microfilm reading machines, and some 30 microfilm and microfiche copiers provided by the Library. Ken has just scanned a microfilm saying something about relatives who emigrated to the US from the south-west German town of Durlach near Karlsruhe:
Most of what I'm doing is looking for descendants of some of my early ancestors, and identifying distant cousins that spread out to different parts of the United States."
During the past few days of research, Ken was able to find out that one of his ancestors was apparently valet to the Count of Durlach. Since Ken is not able to speak German, finding out what is in the old German documents is a little difficult for him. The whole research sometimes seems like a 500 piece jigsaw puzzle of which you only know three pieces for certain, he says.
Fortunately, the librarians at the Family History Library are ready to offer their help. One of them is Bärbel Johnson, who came to the US at the age of 18. She is well aware of all the problems that hobby genealogists face.
"All of these records and documents are written in Gothic letters or the old German Suetterlin alphabet. The people here are not used to deciphering these unfamiliar characters. That's why we are spending a lot of time reading the texts to the people or teaching them how to manage on their own", she explains.
The Mormons are very diligent genealogists - much to the annoyance of Parish Archives in Germany. Cooperating with German authorities has not always been a smooth and easy matter.
Due to the strict German privacy laws there are no entries on living people, says Richard Turley, Mormon Church official and head of the Library. Therefore, the majority of the records date from before the 1920s. So anyone who hopes he can use the Library to search for wealthy, far-removed relatives, will be disappointed.
However: Two years ago the Mormon Church agreed on making their records available to the internet community for free. With its more than 400 million names, the FamilySearch web site is one of the largest genealogical research sites on the net.