The German service sector union ver.di said "a very large majority" of its members among 1,000 cabin attendants in Germany, including those on temporary hire, had voted for the proposed collective labor agreement.
If finalized at late-November talks, Ryanair would switch the attendants to job contracts under German labor and social welfare laws to include sick pay and redundancy safeguards, said ver.di board member Christine Behle.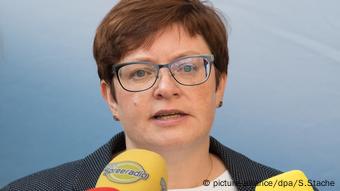 Safeguards near for Ryanair personnel, says ver.di's Behle
Assuming the collective agreement ran until 2021, a typical stewardess currently receiving €850 ($930) would first get €1420 in basic pay, rising to €1650, and with bonuses, including flying hours, reach €2,300, said ver.di.
Also included would be compensation for employees when Ryanair closed or shrunk its operations at airports — such as a Bremen closure in early November, ver.di said.
Read more: Being a pilot isn't what it used to be
Ryanair personnel chief Eddie Wilson described the outcome as a "further concrete sign of substantial progress" toward reaching deals in European nations. Last week, Ryanair said it had reached various deals in Italy, Greece and Sweden.
Outcome for pilots still awaited
The proposed deal for German cabin personnel does not include some 400 Ryanair pilots represented by the German union Cockpit (VC), which is due to negotiate further on Wednesday.
Also pending are cabin personnel talks involving another union, UFO, which on Monday won a Darmstadt labor court ruling that dismissed a Ryanair objection to a recent union warning that poor work conditions could also endanger safety.
Linking 37 countries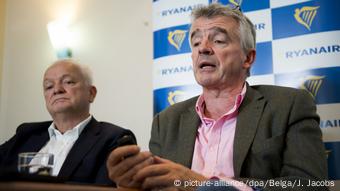 Brussels, September 2018: Ryanair personal chief Wilson alongside CEO Michael O'Leary
The tentative ver.di-Ryanair deal for Germany follows protests in recent months that forced multiple flight cancellations within Ryanair's network spanning 215 airports in 37 countries in Europe and North Africa.
A major issue among personnel based outside Ireland was Ryanair's practice of using Irish legislation in individual employment contracts.
Berlin to push for works council law change
As a member of Germany's Bundesrat second parliamentary chamber, the city-state of Berlin said Tuesday it would seek amendment of Germany's corporate co-determination law (Betriebsverfassungsgesetz ) so air crew representatives can be elected to works councils.
Berlin Labor Senator Elke Breitenbach of the Left Party said three other regional states – Bremen, Thuringia and Brandenburg – also backed the initiative to amend the legislation.
Currently, the law spans only ground staff. Airborne staff can only be represented via their firm's works council when specifically agreed in employer-union agreements.
Last month, German Labor Minister Hubertus Heil, visiting Ryanair personal at Frankfurt Airport, promised flight crews works council inclusion via legislative change.
In August, ver-di form a new negotiating commission comprising nine Ryanair employees working in Berlin, Frankfurt, Düsseldorf, Bremen und Cologne and backed by public figures, including federal parliamentarians, as patrons.
Profit warning
Ryanair has also been fighting an order by Italian regulators to suspend a charge for carry-on bags. Last week in France, it was forced to repay a subsidy. In the Netherlands, the Dutch judiciary has blocked a pilot transfer from Eindhoven.
In October, Ryanair cut its annual after-tax profit forecast through to next March to between 1.1 and 1.20 billion euros ($1.27-$1.39 billion).
ipj/rc (dpa, AFP, Reuters)