A few days ago, Formula 1 World Champion Lewis Hamilton won the Russian Grand Prix in Sochi for the fifth time in a row, increasing his chances of defending his title. Sitting on the grandstand in the VIP box as Russian President Vladimir Putin's special guest was someone else hoping for an early victory: Milorad Dodik. He is president of Bosnia-Herzegovina's Serbian region and and its most promising candidate in the upcoming elections for a position on the three-member executive committee that governs the entire country. Whenever elections are imminent in Bosnia-Herzegovina, Dodik visits the Russian president and tries to get media-savvy press photos that show him in close conversation with Putin.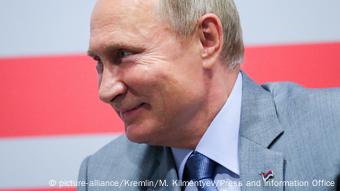 Putin is clearly pleased with his Bosnian Serb ally Dodik
Now the time has come around again. The two dissimilar politicians let themselves be photographed together, with Putin wishing his guest "great success in the elections." Dodik showed his thanks by presenting him with a flag lapel pin of the Serbian area in Bosnia-Herzegovina, which Putin then immediately attached to his suit. Photographers were, of course, also present.
It was once again a successful publicity event for Dodik, who would like to make a name for himself as Putin's man in the Balkans. He has long claimed that Bosnia-Herzegovina cannot survive as a common country of Bosniaks, Serbs and Croats, and he has been openly striving for the Serbian region's secession and independence. And he knows that his voters are deeply impressed by Russia and Putin, so to bask a little in this glory can only help in the lead-up to the election.
Read more: Can fresh elections save a divided Bosnia-Herzegovina?
A game of thrones
Russia's Foreign Minister Sergey Lavrov recently indicated that he is more than willing to support Dodik. Not only did Moscow's top diplomat visit the capital, Sarajevo, two weeks before the election, but he also made an appearance in the Serbian stronghold, Banja Luka. He reaffirmed Russia's attachment to the Serbs and criticized the EU for allegedly putting pressure on people to take a position against Russia. At the same time, however, he stressed, as always in such matters, that Moscow naturally supports "Bosnia-Herzegovina's sovereignty and territorial integrity."
But according to Sonja Schiffers of the Berlin Foundation for Science and Politics, this is merely rhetoric. "On the one hand, the Kremlin emphasizes a country's territorial integrity, but at the same time supports politicians who pursue exactly the opposite," says Schiffers. She sees Dodik, who has always had division at the heart of his political platform, as one prominent example. "This is playing with fire," warns Schiffers.
Read more: Dodik disputes 1995 Srebrenica genocide
The goal: Prevent NATO enlargement
Moscow's main concern is to prevent the West's possible annexation of the Balkan states, says Jasmin Mujanovic, political analyst at the New York-based EastWest Institute. "As long as Bosnia-Herzegovina does not function as a state, it cannot join either the EU or NATO — and that is Russia's strategic goal in the region. Moscow is conducting itself similarly in both Serbia and Macedonia, and tried to the very last to prevent Montenegro from joining NATO — but without success.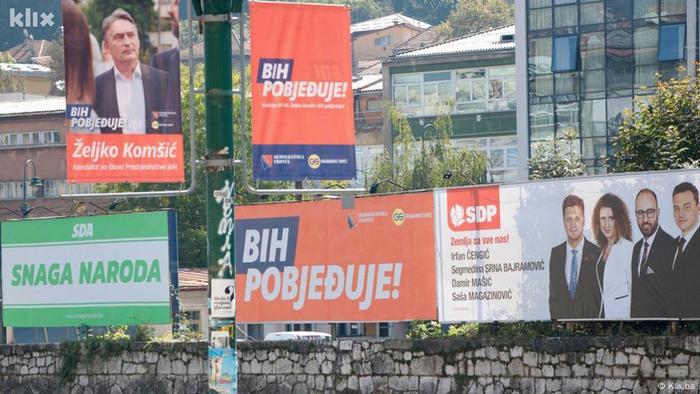 Practically every major public office is up for grabs in hotly contested elections
Just a secondary sideshow
But Bosnia-Herzegovina's importance to Russia should not be overestimated, says Igor Pellicciari, professor of Russian foreign policy at the Moscow State Institute of International Relation (MGIMO) and the University of Urbino in Italy. Of course, Moscow isn't happy about the prospect of further NATO enlargement, says Pellicciari, but he describes speculation about interference in the elections as misguided: "It's like a mantra to claim that Russia is always involved in elections in Europe and around the world, whether it's Brexit, the Italian elections or Trump."
Pellicciari believes this is a general representation used to justify the West's obvious loss of reputation. "The West has not so much a problem with 'fake news' as with 'fake leaders.' And Moscow is then sought out as the culprit," says Pellicciari.
Read more: Redrawing borders in the Balkans is a bad idea
According to Pellicciari, it's certainly true that Russia wants to regain its influence on the international stage and "has interests everywhere as a world power, in the Balkans as well as in Georgia and Italy." But he believes that the Balkans are certainly not Russia's priority.
However, journalist Zurnal Avdo Avdic of the Bosnian online portal Zurnal fears that Russia's influence on the elections, which the Bosnian public is being warned about, "will not be exaggerated, but rather played down too much." Avdic is certain that if pro-Russian forces win the elections, Bosnia-Herzegovina's path to Europe will be blocked for years.