Russian opposition leader Alexei Navalny was detained by police outside his Moscow home on Monday ahead of an anti-government rally he was going to hold in central Moscow.
The Simonovsky district court ruled after midnight Monday that Navalny be jailed for 30 days for repeatedly violating the law on organizing public meetings.
Navalny's wife announced the arrest on Twitter around 40 minutes before the protests were due to start. "Hello, this is Yulia Navalnaya," she wrote. "Alexei has been detained in the stairwell."
The protests will still go ahead, she added.
In a subsequent tweet, she posted a photo of Navalny being escorted into a police car.
Russian authorities had warned that Navalny could face 15 days in prison for failing to follow police orders and violating public order after he called supporters to hold unauthorized protests on Moscow's main avenue.
Thousands of young Russians marked Monday's patriotic Russia Day holiday by rallying against government corruption and exerting pressure on President Vladimir Putin. Russia Day commemorates the establishment of the Russian sovereign state in 1990, a year prior to the dissolution of the Soviet Union.
Navalny's team said they had expected some 45,000 to 50,000 people at the Moscow rally alone. Navalny's key demographic among his supporters includes teenagers and students who have grown up only knowing Putin's rule. Despite his arrest, reports from global media outlets showed that demonstrators across the country were undeterred.
There were reports from Russian NGO OVD-Info suggest that around 120 protestors had been detained by riot police in Moscow's central Pushkin Square. Witnesses reported that pepper spray had been used to disperse protestors.
Another 130 protestors were reportedly arrested in St Petersburg after holding an unsanctioned opposition protest in the city's Mars Field. Later reports suggested that up to 1,000 people may have been arrested, but that number could not be confirmed.
Later on Monday, the White House made a rare statement against the government of Vladmir Putin, saying that Moscow should "immediately release all peaceful protesters" from jail.
"The Russian people deserve a government that supports an open marketplace of ideas, transparent and accountable governance, equal treatment under the law and the ability to exercise their rights without fear of retribution," said Sean Spicer, press secretary for President Donald Trump.
Protest location changed
The arrest is likely linked to Navalny's announcement late on Sunday that he would change the location of the protest from Sakharova Street, located far away from the Moscow's city center, to Tverskaya Street, Moscow's main avenue near the Kremlin.
City authorities had authorized the protest at Sakharova Street. However, Navalny had claimed that authorities had pressured firms into refusing to build a stage at the agreed upon venue, as well as supply his team with sound and video equipment.
Read more: Opinion: Russian politics are as cold as ever
Moving the protest venue would likely make it illegal in the eyes of Russia's authorities and prompted fears of violence.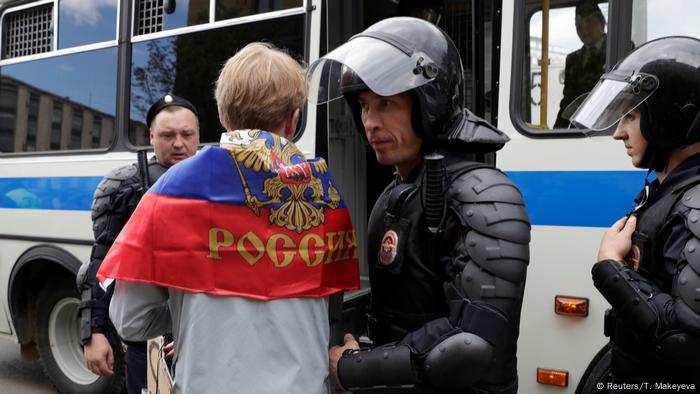 Riot police have begun making arrests at the anti-corruption protest organised by Navalny.
Following the change of location, Moscow authorities warned that "any provocative actions from the protesters' side will be considered a threat to public order and will be immediately suppressed."
Presidential hopes
The protests are part of Navalny's whistle-stop tour of Russia, as he seeks to run for the Russian presidency next year. However, polls suggest that he would have scant chance of winning, if he were even allowed to run at all. A controversial past conviction on graft charges is likely to keep him off the ballot. His latest arrest casts further doubts over his eligibility to run.
A spokeswoman for Navalny tweeted shortly after his arrest that electricity to his campaign offices in Moscow had been cut off.
The scale and geographical reach of Monday's protests will show whether Navalny's movement can continue to pressure the Kremlin, after similar protests in March were shut down. Authorities arrested Navalny and kept him detained for two weeks. Around 1,000 anti-government protestors were also arrested
Read more: Kremlin tells kids to ditch Navalny's Russia Day demos
The latest demonstrations should also indicate whether the lawyer-turned-political activist can collect the 300,000 signatures needed to stand a chance of running in next year's presidential race.
With the protests being held on a public holiday, turnout is expected to be high.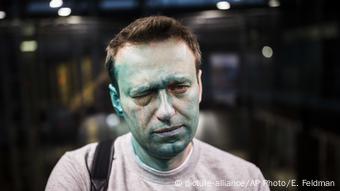 April's green liquid attack left Navalny with permanently damaged sight.
Putin's headache
Navalny has been a bane for the Russian government since he finished second in the Moscow mayoral race in 2013 on an anti-Putin platform. That success effectively cemented his place as Russian's top opposition leader.
However, Navalny's quest for the presidency has suffered repeated setbacks and hurdles, including repeated physical assaults. In April he required medical treatment after he had caustic green liquid thrown in his face.
Earlier this year, Navalny' was also handed a suspended prison sentence for alleged corruption, which will likely bar him from running for the presidency next year. That was the latest in a series of trials that his supporters say have been organized by the Kremlin to halt his campaign.
Despite the setbacks, Navalny has vowed to continue challenging the government. "We can only force them to register me," he told supporters. "It's clear as day Putin doesn't want to come out to debate with me."
dm/jm (dpa, Reuters, AFP)