The Russian Defense Ministry and state news agency TASS announced Thursday that Korobov, 62, had died of a "lengthy and grave illness," a common Russian euphemism for cancer.
His predecessor, Igor Segun, died unexpectedly in January 2016, aged 58.
Read more: examining Russia's 'spy mania' on foreign soil.
The ministry said Russia had lost a "great man, a faithful Russian son and a patriot of the motherland." It did not immediately announce a successor for Korobov.
The acronym GRU stands for the Main Intelligence Directorate, a term still widely used although the agency's name was changed in 2010 to the Main Directorate of the General Staff (GU).
Skripal, hacking, chemicals
Kremlin officials have in recent times rejected a string of foreign allegations directed at the GRU, calling them part of a Western smear campaign.
Western nations blamed the GRU for foreign attacks, including the nerve poisoning attack in Britain survived by former Russian spy Sergei Skripal and his daughter Yulia last March.
Korobov was absent on November 2 during GRU centenary celebrations attended by President Vladimir Putin, who, according to one Russian media report, had previously summoned Korobov over the Skripal affair.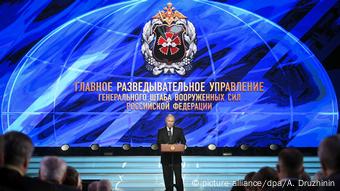 GRU centenary: Putin praised its 'unique abilities'
Washington and its allies had also accused the GRU of hacking the 2016 US presidential campaign and disrupting anti-doping efforts in world sports.
In September, the Netherlands said authorities foiled a hack attack blamed on the GRU against the global chemical weapons watchdog OPCW, which was examining allegations against Russia's ally Syrian President Bashar al-Assad.
Reported to Shoigu
Korobov, a Soviet air force veteran who joined the GRU in 1985, reported to Defense Minister Sergei Shoigu and the Chief of General Staff Valery Gerasimov.
Russia treats the GRU's structure, financing and staff numbers as state secrets, but multiple reports say the agency has an extensive spy network abroad, including its highly trained "Spetsnaz" special forces used in Afghanistan and Chechnya.
In 2006, a rare chance for the public to more closely view the GRU's Moscow headquarters occurred when Putin — himself a former Soviet spy once based in former communist East Germany — was shown taking part in shooting practice.
Alongside the GRU, Moscow has its SVR foreign intelligence agency and FSB domestic security agency.
ipj/sms (AFP, AP, Reuters)