Moscow courts on Monday handed down fines to Maria Alyokhina and Veronika Nikulshina from the feminist protest group and performance art group Pussy Riot for hanging pride flags on Russian government buildings on October 7 — the 68th birthday of President Vladimir Putin.
The Interfax news agency reported that Alyokhina was fined 15,000 rubles (about €166; $196) while Nikulshina was handed a 10,000 ruble fine.
Their action, during which the rainbow flags were hung at buildings such as that of the Presidential Administration and the Culture Ministry in Moscow, aimed to draw attention to discrimination against the LGBT+ community in Russia.
On its Facebook page, the group last month described the protest action as a "birthday gift" to Putin.
Read more: Pussy Riot's Maria Alyokhina: 'Fear is the most dangerous thing'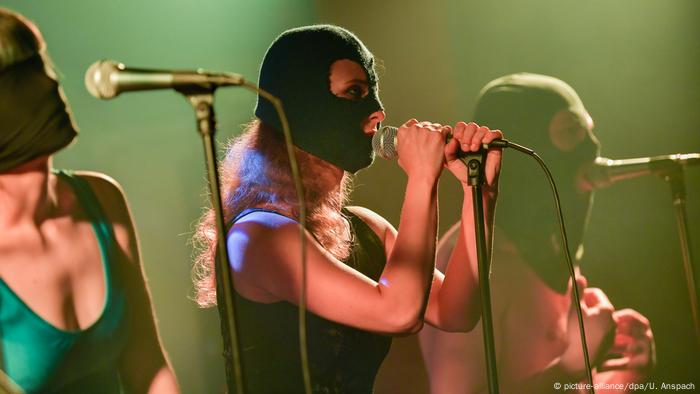 Pussy Riot, seen here on tour in Germany in 2019, are known for their provocative actions
Much-criticized 'propaganda' law
While homosexuality itself is not illegal in Russia, the country does have a controversial law banning "homosexual propaganda" that critics see as condoning homophobic behavior and undermining much-needed support for LGBT+ youth.
The influential Russian Orthodox Church also plays a role in stigmatizing the LGBT+ community and fomenting hostility toward it.
Pussy Riot has often been in the news for its radical protest actions, which often target Putin's policies. The group rose to worldwide fame after a protest in Moscow's Cathedral of Christ the Savior in February 2012. Three members of the group, including Alyokhina, were given jail sentences.
tj/rs (Interfax, dpa, AFP)